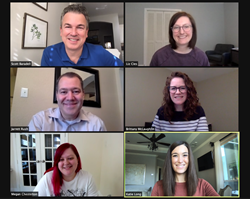 "The past 15 years has been an exciting journey of learning, growth and evolution for Idea Grove. We look forward to applying our learnings on behalf of our clients in the months and years ahead."
DALLAS (PRWEB) October 30, 2020
Idea Grove, a Dallas-based unified PR and marketing agency for B2B tech companies, is celebrating 15 years of innovation, industry leadership and growth. Founded by Scott Baradell, a journalist turned PR executive, Idea Grove launched in 2005 with the publication of Media Orchard, one of the industry's first PR blogs. Since then Idea Grove has blossomed into an established leader, working with some of the world's top B2B tech brands, ranking three times as an Inc. 5000 company and being named one of the top 25 tech PR agencies in the United States by O'Dwyer's.
"Idea Grove has launched products that have become household names in B2B tech. We've helped tiny bootstrapped startups triumph in nine-figure exits. We've worked as valued partners with some of the most well-known and trusted names in technology," Baradell said. "But what we're most proud of are the bonds of friendship and mutual respect we've built with our clients and on our team along the way. Our magnum opus is the 15-year assemblage of little things we do to make an impact each day."
Idea Grove's agency philosophy is grounded in helping clients to not only build brand awareness, but to achieve lasting brand trust. Since its inception, Idea Grove has iterated continually on its trust-centered approach, infusing it across agency disciplines including brand strategy, public relations, web design, content marketing and HubSpot consulting.
Over the past year, Idea Grove has seen significant growth in its internal team and client base. In November 2019, John Lacy joined as president and COO to work alongside Baradell in enhancing the agency's operational efficiency and scalability. In July 2020, Idea Grove expanded its leadership with David Reiter joining as vice president of client development and partnerships to help drive agency growth.
As American society began building a technology infrastructure to support the new normal during the COVID-19 pandemic, Idea Grove added several new clients in industries ranging from remote learning and webcasting to healthcare staffing and drone-based cleaning solutions. Idea Grove has been proud to partner with these B2B tech heroes in bringing new innovations to market to help sustain the economy during challenging times.
In 2021, Baradell will release a new book, Trust Signals: The New PR, outlining a new framework for the practice of public relations centered on building and promoting trust. Rooted in the e-commerce concept of "trust signals," the book will explore practical steps marketers can take to ensure that customers believe in their brands.
"At a time when the public is less trusting than ever, companies are hungry for strategic guidance on how to inspire confidence with buyers and turn skeptical prospects into true believers," Baradell said. "The past 15 years has been an exciting journey of learning, growth and evolution for Idea Grove. We look forward to applying our learnings on behalf of our clients in the months and years ahead."
About Idea Grove
Since 2005, Idea Grove has distinguished itself as that rare agency that truly understands growth-oriented B2B technology companies and their buyers. Idea Grove's unified PR and marketing service offering has been built from the ground up with the specific challenges of B2B tech in mind, including grasping complex technologies, maintaining momentum through long sales cycles, and influencing the decision-making of both business and IT buyers. Idea Grove can be reached at contact@ideagrove dot com or 972.235.3439.