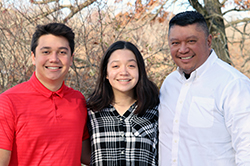 We are especially grateful to be able to provide a VIP Plus payout this year. This is a direct reflection of the cooperative's stability and despite the impact of the COVID-19 pandemic, the credit union remains strong and continues to achieve its goals. - Ideal CU President/CEO Brian Sherrick
WOODBURY, Minn. (PRWEB) January 18, 2021
Ideal Credit Union has paid $438,200 in Patronage Dividends to 3,381 qualified members as part of its exclusive VIP+ Program, which aims to reward members for their patronage and for actively participating in the cooperative. Funds were deposited into members' savings accounts on January 2, 2021 and available that same day. Since 2013, Ideal CU has paid out over $4.6 million to VIP+ members.
The recent payout marks Ideal CU's 9th consecutive year returning a percentage of its annual profits back to its members through the VIP+ Program.
"We are especially grateful to be able to provide a VIP Plus payout this year. This is a direct reflection of the cooperative's stability and despite the impact of the COVID-19 pandemic, the credit union remains strong and continues to achieve its goals," said Brian Sherrick, Ideal CU President/CEO. "We thank our members for this continued success and for their loyalty, trust and patience during these uncertain times."
"The credit union is prepared to face the challenges ahead in 2021," said Sherrick. "Our priority remains with our members and ensuring they receive the level of service they have come to expect."
Members who qualify as VIP+ have the potential to earn two special dividends; the Deposit Rebate Dividend and the Loan Rebate Dividend. Payouts range from $50 to $700 and are based on several factors, including: loan and deposit accounts, balances, interest paid to the credit union, debit card usage and more.
Ideal CU Staff worked one-on-one with members throughout the year to promote the VIP+ Program. Jay Hall, Ideal CU SVP of Branches, applauded their dedication. "Our staff specializes in identifying solutions for our members' financial needs. Naturally, that results in growing relationships and an overall increase in the payouts VIP Plus members receive."
To learn more about Ideal Credit Union's exclusive VIP+ Program and its qualifications, visit http://www.idealcu.com/vip.
Founded in 1926, Ideal Credit Union is a member owned financial institution that is dedicated to providing financial services driven by a sincere and personal interest in the needs of our employees, members and community. Ideal CU offers a full suite of digital banking products, savings, checking, loans, mortgage, exclusive VIP member payback, business services and more. Offices are located in Eagan, Hugo, Inver Grove Heights, North St. Paul, Stillwater and Woodbury. Visit idealcu.com for details and directions. Equal Housing Lender.