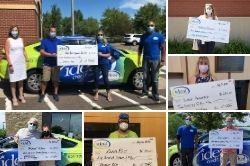 We were able to keep everyone safe, give away some cash and most importantly give back to our local communities. I would like to thank everyone involved for making this virtual celebration a tremendous success. - Ideal CU President/CEO Brian Sherrick
WOODBURY, Minn. (PRWEB) August 28, 2020
With safety in mind, Ideal Credit Union turned its annual Member/Community Appreciation event into a two-week virtual celebration that increased participation and enabled attendees to follow along online and on social media. Ideal saw an 89% increase in adult registrants from 35 states and a 52% increase in youth registrants from 7 states enroll online for chance to win cash prizes. Ideal gave away ten $500 grand prizes, five $250 grand prizes and ten $50 Bucky Bear youth prizes. Overall, Ideal gave away $6,750 to 25 lucky winners, and donated another $3,000 to local area food shelves in the communities the credit union serves.
The virtual events ran from August 11 – August 20 and started with a video welcome from each respective Ideal CU branch manager. At 12:00 Noon, Ideal made a donation via Facebook Live to representatives from five local area food shelves. At 12:30 pm, branch managers announced the cash prize winners for that day's event on Facebook and shared the videos on Ideal CU's website. Ideal saw a 5.50% increase in Facebook likes during the virtual event. Website traffic also increased on the event landing page.
One of the lucky $500 cash prizes winners was Meagan Peterson, who was watching the Hugo event on August 11 via Facebook Live and immediately shared her excitement on the social media channel about being selected. She plans to use the winnings toward a down payment on a house. A week later, Meagan's mom Susan Peterson was selected at random as a $250 winner during the August 19 Woodbury celebration. Susan plans to put her winnings toward a family vacation next year.
Brian Nickell, another $500 cash prize winner from the Hugo event will spend part of his winnings on new tires for his Tahoe. The rest will go toward a trip to Hawaii. Michael McHenry, who won $500 at the August 19 Woodbury event, shared that he is currently unemployed due to COVID and planned to use the money to take his wife to dinner. Eunice Bliss, a $500 cash prize winner from the August 20 Stillwater event, shared that she chose Ideal because she was tired of dealing with banks and high fees. She will put the money toward a trip she is planning for Thanksgiving. Lucky $50 Bucky Bear youth winners included Olivia T., Brendan O., Aleah J., Calista C., Zachary S. and Rowan C.
With the pandemic creating greater demand for food assistance in our local communities, the Ideal Community Foundation continued its regular support of local area food shelves during the virtual event by donating $3,000 to help restock the shelves. Recipients included the Hugo Good Neighbors Food Shelf in Hugo, The Open Door in Eagan, the North St. Paul Area Food Shelf in North St. Paul, the Christian Cupboard in Woodbury, Valley Outreach in Stillwater and Neighbors, Inc., in Inver Grove Heights. Since 2014, the Ideal CU Community Foundation has donated over $16,500 to local area food shelves during these annual events.
"We really enjoy our annual Community Events and didn't want to cancel or postpone the celebration, so we got creative in how we transitioned the events to a virtual format without missing any of the fun" said Ideal CU President/CEO Brian Sherrick. "We were able to keep everyone safe, give away some cash and most importantly give back to our local communities. I would like to thank everyone involved for making this virtual celebration a tremendous success."
For a full recap of the celebration and to view the fun daily videos visit http://www.idealcu.com/virtualevents.
Founded in 1926, Ideal Credit Union is a member owned financial institution that is dedicated to providing financial services driven by a sincere and personal interest in the needs of our employees, members and community. Ideal CU offers a complete range of services, including a full suite of digital banking products, savings, checking, loans, mortgage products, business services, investment services and more. Offices are located in Eagan, Hugo, Inver Grove Heights, North St. Paul, Stillwater and Woodbury. Visit idealcu.com for details and directions.