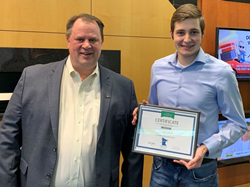 We are extremely proud of Jared's accomplishments and for receiving a FSC scholarship for his outstanding essay and impressive goals. We wish him all the best in his future endeavors. - Ideal CU President/CEO Brian Sherrick
WOODBURY, Minn. (PRWEB) February 26, 2020
Ideal Credit Union is proud to announce that Ideal CU member Jared Kula of New Hope, MN, a mechanical engineering student at the University of Wisconsin-Stout, has won a $1,000 scholarship from the Minnesota Credit Union Foundation Scholarship Council (FSC). A total of $12,000 was recently awarded to 10 credit union members in Minnesota. Scholarships were given out to students in two categories: Traditional and Non-Traditional. Ideal Credit Union has been a long-time supporter of the FSC Scholarship program.
Over 800 students from credit unions throughout the state applied for scholarships. Applicants were selected based on their essays submitted to the FSC. This year's essay question was: What is your plan to afford the costs of higher education based on your anticipated degree and future career income?
In his essay, Kula wrote about researching colleges and weighing expenses, with a goal to graduate debt-free. He chose the most affordable, UW-Stout. "However, at $17,000 a year, for four years, I would still owe about $68,000. We then estimated that after my $4,000 of total scholarships, my parent's $8,000 contribution, my $3,000 worth of college credits from high school, and my $28,000 of saved money, I would still need approximately $25,000 by May of 2023. I am still working diligently to meet this goal. I am optimistic that as a mechanical engineer my entry-level job salary in my home State of Minnesota will approximately be $55,000 annually. With that, I anticipate little difficulty paying off student loans within five years," Kula stated.
"We are extremely proud of Jared's accomplishments and for receiving a FSC scholarship for his outstanding essay and impressive goals. We wish him all the best in his future endeavors," said Ideal CU President/CEO Brian Sherrick. Kula has been an Ideal CU member since 2002, when his parents opened a Bucky Bear youth account for him while he was still an infant.
Founded in 1926, Ideal Credit Union is a member owned financial institution that is dedicated to providing financial services driven by a sincere and personal interest in the needs of our employees, members and community. Ideal CU offers a complete range of services, including a full suite of digital banking products, savings, checking, loans, mortgage products, exclusive VIP member payback, business services, investment services and more. Offices are located in Eagan, Hugo, Inver Grove Heights, North St. Paul, Stillwater and Woodbury. Visit idealcu.com for details and directions. Ideal has been voted "Best Credit Union in the East Metro" three years in a row by readers of the Stillwater Gazette and was named a 2018 Star Tribune Top 150 Workplace. Equal Housing Lender.