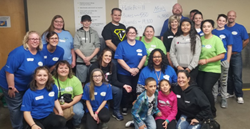 At Ideal Credit Union we are, and have always been, committed to our communities; however we recognize we can do better by staying true to the credit union philosophy of 'People Helping People.' - Ideal CU President/CEO Brian Sherrick
WOODBURY, Minn. (PRWEB) August 31, 2020
With demand for food assistance rising to historic levels in our local communities, Ideal Credit Union rallied its employees to raise funds for Second Harvest Heartland' s ongoing hunger relief efforts, resulting in $606 from staff and another $175 on Ideal's Facebook page from members. Ideal CU's Board of Directors sweetened the pot by offering to match 100% of the cash raised up to $2,500. In total, a check for $2,500 was sent to Second Harvest to support its mission to end hunger through community partnerships and make families and communities whole again.
Food shelves and food banks across Minnesota are expecting a 65 percent increase in demand through the remainder of 2020 and into 2021 as a result of challenging economic conditions tied to COVID-19 according to Second Harvest. One in 8 Minnesotans now face hunger, making it vital to support community access to food during the pandemic. Second Harvest says it is working around the clock to get much-needed food to local families, partner food shelves, and other hunger-relief programs.*
Ideal has a long history of community partnership with Second Harvest. Twice a year Ideal sends a group of 20-25 volunteers to pack boxes of food for our hungry neighbors and make a monetary donation. Ideal's ambitious and dedicated employees and family members roll up their sleeves and work hard to set new records for filling boxes and packing food. These volunteer nights are popular with employees and provide an opportunity to spend time with coworkers from other branch offices, and give back to our communities in a very meaningful way.
"At Ideal Credit Union we are, and have always been, committed to our communities; however we recognize we can do better by staying true to the credit union philosophy of 'People Helping People'," said Ideal CU President/CEO Brian Sherrick.
Second Harvest Heartland's mission is to end hunger through community partnerships. Their work is about more than moving food, it is about making families whole again by helping kids get the food they need to learn in school, helping parents fill empty cupboards, or giving seniors a little bit more to help stretch their dollars every month. In 2019, Second Harvest Heartland helped provide more than 97 million meals to nearly 1,000 food shelves and meal programs serving 59 counties in Minnesota and western Wisconsin.*
Founded in 1926, Ideal Credit Union is a member owned financial institution that is dedicated to providing financial services driven by a sincere and personal interest in the needs of our employees, members and community. Ideal CU offers a complete range of services, including a full suite of digital banking products, savings, checking, loans, mortgage products, business services, investment services and more. Offices are located in Eagan, Hugo, Inver Grove Heights, North St. Paul, Stillwater and Woodbury. Visit idealcu.com for details and directions. Ideal has been voted "Best Credit Union in the East Metro" four years in a row by readers of the Stillwater Gazette, "Best Credit Union in the Forest Lake Area" by readers of the Forest Lake Times, and was named a 2020 Star Tribune Top Workplace. Equal Housing Lender.
(* Source: Second Harvest Heartland)