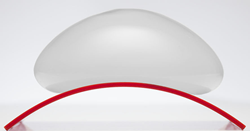 "IDEAL IMPLANT is a disruptive technology with strong clinical data that shows clear advantages over the silicone gel implants that have dominated the industry since 2006 ... The current landscape presents a timely opportunity for market entry at a critical tipping point in consumer preferences."
DALLAS (PRWEB) January 22, 2020
Ideal Implant CEO and President Robert S Hamas, MD, presented new developments in the cosmetic surgery industry at two recent North American investor forums specializing in medical advancements. New technology was presented to US and Canadian investors at the Canaccord Genuity Medical Technologies & Diagnostics Forum on November 21, 2019 in New York City, and the Aesthetic Technology Summit in Orange County, California on January 10, 2020. Dr. Hamas, a widely-published retired plastic surgeon and medical device inventor with nine US patents, was invited to provide investors with insight into shifting trends and technologies in breast implants.
"IDEAL IMPLANT is a disruptive technology with strong clinical data that shows clear advantages over the silicone gel implants that have dominated the industry since they were allowed back in the US market in 2006," explained Dr. Hamas. The IDEAL IMPLANT® Structured Breast Implant contains a novel internal structure that gives it the natural feel and look of silicone gel implants, but with only saline inside for a woman's peace of mind. A key differentiator is that with the IDEAL IMPLANT, a woman can look in the mirror and know her implants are intact, while with silicone gel implants, rupture can occur without her knowledge (silent rupture), and require an MRI or ultrasound scan for detection."
Dr. Hamas presented the latest market surveys showing that women consumers are spearheading a shift in implant preferences, pushing their surgeons toward increased adoption of this new technology over silicone gel implants. The data demonstrates that educated, proactive women consumers expect technology advancements, strong clinical data, and a better implant choice than silicone gel, sentiments which drove the development of IDEAL IMPLANT. The structured implant's eight-year clinical trial data also recently showed the new implant outperforms silicone gel implants, with significantly lower rates of complications such as rupture and capsular contracture, further driving demand.
"While the IDEAL IMPLANT was launched as a luxury consumer product with premium pricing, the strong safety profile and a quickly growing, vocal pool of happy patients are driving strong patient interest across the board," explains Dr. Hamas. "We have invested significantly to meet the growing pace of demand, and the IDEAL IMPLANT brand is increasingly well recognized. The current landscape presents a timely opportunity for market entry at a critical tipping point in consumer preferences."
About Ideal Implant
Ideal Implant Incorporated, founded in 2006, is privately held and based in Dallas, TX. The Company has developed the IDEAL IMPLANT, designed the manufacturing processes including proprietary robotic shell fabrication technology, conducted a large US clinical trial and received PMA approval from FDA and Health Canada in 2014. The marketing strategy has been focused on the women consumers, who make the ultimate decision on their choice of implant. Growth in consumer demand has been rapid since commercial launch in 2015, and the IDEAL IMPLANT brand has become well recognized in the plastic surgery market. Plans are underway for expansion of manufacturing capacity to meet the growing demand. For more information, visit idealimplant.com.