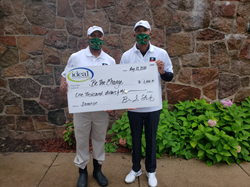 This was a very personal event for me, especially with the civil unrest we have had in Minneapolis and around the nation, and it was a great opportunity for me to return to the neighborhood where I grew up and show my support. - Ideal CU VP of Branches Jay Hall
WOODBURY, Minn. (PRWEB) September 16, 2020
For Jay Hall, Ideal Credit Union VP of Branches, the recent "Be The Change" charity golf tournament at Theodore Wirth Golf Course in Minneapolis was about more than supporting a good cause, it was about going home. Hall grew up in North Minneapolis and attended North High School, one of the beneficiaries of the tournament, and is proud of his roots in the community. Hall also presented a check for $1,000 from the Ideal Community Foundation to help in fundraising efforts.
"This was a very personal event for me, especially with the civil unrest we have had in Minneapolis and around the nation, and it was a great opportunity for me to return to the neighborhood where I grew up and show my support," said Hall. "I am also grateful to the Ideal Community Foundation for their generous donation to this event and for all the good things they continue to do for our local communities."
The "Be The Change" tournament is a new charitable event designed to bring people together who might not otherwise cross paths to build relationships through the game of golf and give back. Organizers also believe these efforts are a crucial step on the journey to mend racial disparities in our communities.
Proceeds from the tournament will benefit photography students at North High School; the Heritage Youth Sports Foundation, which encourages youth development by providing opportunities for personal and athletic growth; Sprayfinger, which builds partnerships with artists, teachers, business owners, arts organizations and others to address culture, community, expression, and the process of graffiti writing as an artistic value; and the student-led effort to change the name of Patrick Henry High School.
Founded in 1926, Ideal Credit Union is a member owned financial institution that is dedicated to providing financial services driven by a sincere and personal interest in the needs of our employees, members and community. Ideal CU offers a complete range of services, including a full suite of digital banking products, savings, checking, loans, mortgage products, business services, investment services and more. Offices are located in Eagan, Hugo, Inver Grove Heights, North St. Paul, Stillwater and Woodbury. Visit idealcu.com for details and directions. Ideal has been voted "Best Credit Union in the East Metro" four years in a row by readers of the Stillwater Gazette, "Best Credit Union in the Forest Lake Area" by readers of the Forest Lake Times, and was named a 2020 Star Tribune Top Workplace. Equal Housing Lender.