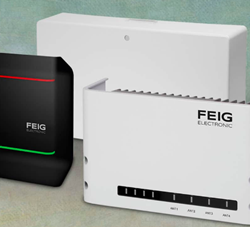 We were looking for a solution provider to help address the growing need for contactless vehicle and people access control in general, but especially during this COVID pandemic
DULUTH, Ga. (PRWEB) August 25, 2020
FEIG ELECTRONICS, a leading global supplier of RFID readers and antennas, announces that the Identification Systems Group (ISG) is now carrying four FEIG long-range readers. The products broaden the ISG's solutions scope to offer UHF readers in addition to the UHF tags already in their product line.
Customers today expect fast, contactless service wherever they are, and the advent of COVID-19 greatly accelerated this trend. Whether corporate, government, healthcare, education or finance, businesses are searching for ways to keep employees, customers and visitors safe, and provide faster as well as better access control.
"We were looking for a solution provider to help address the growing need for contactless vehicle and people access control in general, but especially during this COVID pandemic," said Tom Stiles, Executive Director of the ISG. "FEIG's long-range UHF RFID readers were the best solution and compatible with our UHF access control cards and tags."
The ISG has added four of FEIG's products to their offering:

"FEIG's UHF Vehicle Access Control Reader MaxU500i is a UHF access control reader that is compatible with most UHF tags and cards and very easy to use with existing Wiegand systems or as a stand-alone system," said Deborah Greenway, Executive VP of Sales, FEIG ELECTRONICS.
The ISG's line of FEIG UHF RFID readers covers nearly any RFID application for vehicle identification, parking management, access control and more.
About FEIG ELECTRONICS, Inc.
FEIG Electronics, a leading global supplier of RFID readers and antennas, is one of the few suppliers worldwide offering RFID readers and antennas for all standard operating frequencies: LF (125 kHz), HF (13.56 MHz), UHF (860-960 MHz). A trusted pioneer in RFID with more than 50 years of industry experience, FEIG delivers unrivaled data collection, authentication, and identification solutions, as well as secure contactless payment systems. FEIG readers, which are available for plug-in, desktop and handheld applications, support next-generation contactless credit cards, debit cards, smart cards, NFC and access control credentials to enable fast, accurate, reliable and secure transactions. For more information, visit the FEIG website.
About the ISG
The Identification Systems Group (ISG) is a nationwide network of local experts in identification, security, tracking and card personalization technologies, providing high quality, cost-effective solutions backed by local support and the strength of their Professional Services Certification program. Each member company works together to provide seamless support and collaboration in the identification and issuance industries across the USA and Canada. For more information, visit the ISG website.