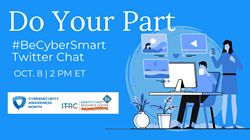 "The online safety and privacy of all stakeholders is important," said Eva Velasquez, president and CEO of the Identity Theft Resource Center. "It's why we are committed to helping people at home and work develop good cyber hygiene habits, and be cyber smart."
SAN DIEGO (PRWEB) October 02, 2020
The Identity Theft Resource Center® (ITRC), a nationally recognized non-profit organization established to support victims of identity crime, has joined the growing global effort to promote awareness of online safety and privacy as part of Cybersecurity Awareness Month (CSAM) during October. CSAM is a collaborative effort among organizations and individuals to promote this year's CSAM theme of 'Do Your Part. #BeCyberSmart.' The month aims to empower individuals and organizations to own their role in protecting their part of cyberspace.
"Cybersecurity is a critical issue that impacts consumers, businesses and institutions every day," said Eva Velasquez, president and CEO of the Identity Theft Resource Center. "The online safety and privacy of all stakeholders is important. It's why we are committed to helping people at home and work develop good cyber hygiene habits, and be cyber smart."
The ITRC will take part in the following activities for CSAM:
"Do Your Part. #BeCyberSmart" Twitter Chat
To kick off CSAM, NCSA and the ITRC are hosting a Twitter chat on Thursday, October 8 at 11:00 a.m. PST to discuss cyber hygiene best practices, resources and much more. Use #BeCyberSmart in your tweet to join the conversation.
NCSA and ITRC Co-Authored Blog
NCSA and the ITRC are publishing a co-authored blog on the impact of data breaches and cyberattacks on small-to-medium-size businesses and their employees. The blog will be released on October 15.
Cybersecurity for Retirement Professionals Conference
The ITRC is participating in a panel hosted by the Cybercrime Support Network to discuss cybersecurity for retirement professionals. The event will take place on October 28 at 8:30 a.m. PST.
Notified – Q3 Data Breach Resources for Businesses & Consumers/Quarterly Trend Report
The ITRC is releasing its data breach information for the third quarter of 2020. We are also promoting new data breach tracking tool, notifiedTM. Notified is free to consumers and has as many as 90 data points for organizations that need comprehensive breach information for business planning or due diligence.
ITRC Podcast Series
Check out ITRC's newest podcasts, "The Fraudian Slip" (monthly), which takes an in-depth look at topics like child identity theft, application fraud and more, as well as the "Weekly Breach Breakdown" (weekly), covering the latest data compromises from the previous week and other news in cybersecurity.
ViViAN - The Virtual Victim Assistance Network Launch
The ITRC will launch a beta version of ViViAN, the organization's artificial intelligence chatbot, to provide initial assistance and after-hours victim support.
New Help Resources for Victims
The ITRC is releasing new Help Center resources for victims of identity crime. The resources will help victims in their resolution process.
Now in its 17th year, CSAM continues to build momentum and impact with the ultimate goal of providing everyone with the information they need to stay safer and more secure online. The ITRC is proud to support this far-reaching online safety awareness and education initiative, which is co-led by the National Cyber Security Alliance (NCSA) and the Cybersecurity and Infrastructure Agency (CISA) of the U.S. Department of Homeland Security.
"Cybersecurity is important to the success of all businesses and organizations. NCSA is proud to have such a strong and active community helping to encourage proactive behavior and prioritize cybersecurity in their organizations," said Kelvin Coleman, Executive Director, NCSA.
For more information about CSAM 2020 and how to participate in a wide variety of activities, visit staysafeonline.org/cybersecurity-awareness-month/. You can also follow and use the official hashtag #BeCyberSmart on social media throughout the month.
About the Identity Theft Resource Center
Founded in 1999, the Identity Theft Resource Center® (ITRC) is a nationally recognized non-profit organization established to support victims of identity crime in resolving their cases, and to broaden public education and awareness in the understanding of identity theft, data breaches, cybersecurity, scams/fraud, and privacy issues. Through public and private support, the ITRC provides no-cost victim assistance and consumer education through its call center, website, social media channels, live-chat feature and ID Theft Help app. For more information, visit: https://www.idtheftcenter.org.
About Cybersecurity Awareness Month
Cybersecurity Awareness Month is designed to engage and educate public- and private-sector partners through events and initiatives with the goal of raising awareness about cybersecurity to increase the resiliency of the nation in the event of a cyber incident. Since the Presidential proclamation establishing Cybersecurity Awareness Month in 2004, the initiative has been formally recognized by Congress, federal, state and local governments and leaders from industry and academia. This united effort is necessary to maintain a cyberspace that is safer and more resilient and remains a source of tremendous opportunity and growth for years to come. For more information, visit staysafeonline.org/cybersecurity-awareness-month/.
About NCSA
NCSA is the Nation's leading non-profit, public-private partnership promoting cybersecurity and privacy education and awareness. NCSA works with a broad array of stakeholders in government, industry and civil society. NCSA's primary partners are the Department of Homeland Security's Cybersecurity and Infrastructure Security Agency (CISA) and NCSA's Board of Directors, which includes representatives from ADP; AIG; American Express; Bank of America; Cofense; Comcast Corporation; Eli Lilly and Company; ESET North America; Facebook; Intel Corporation; Lenovo; LogMeIn; Marriott International; Mastercard; MediaPro; Microsoft Corporation; Mimecast; KnowBe4; NortonLifeLock; Proofpoint; Raytheon; Trend Micro, Inc.; Uber: U.S. Bank; Visa and Wells Fargo. NCSA's core efforts include Cybersecurity
MEDIA CONTACT
Identity Theft Resource Center
Alex Achten
Earned & Owned Media Specialist
888.400.5530 Ext. 3611
media@idtheftcenter.org