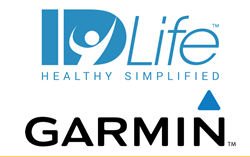 IDLife and Garmin are aligning because of a common belief that being healthy goes beyond the number on the scale and that leading an overall healthy lifestyle is what is most important.
Frisco, TX and Olathe, KS (PRWEB) April 24, 2017
The rapidly-growing health and wellness company of IDLife, LLC, has recently announced a strategic relationship partnership with Garmin International Inc., a unit of Garmin Ltd. (NASDAQ: GRMN), one of the world's leaders in wearable device technology. Beginning June 1, 2017, IDLife customers will now be able to purchase Garmin's line of vívo activity trackers and the Garmin IndexTM Smart Scale on IDLife.com. IDLife customers can expect to see integration of Garmin wearable device data directly into the IDWellness mobile app in the coming months so that customers can easily manage the milestones of their health and wellness journey from one place.
IDLife exists to share a simple way for people to lead healthy lifestyles by offering the highest-quality customized vitamins and nutritional products available. Customers across the country are experiencing lasting results by following the IDLife Experience, a program designed to help people get healthy by following three simple steps each day. The ability to interface partnership with Garmin wellness products strengthens the mission of IDLife to equip people with the right tools to be successful in their journey towards leading a healthier lifestyle for life, not just for a few months or years.
 
IDLife and Garmin are aligning because of a common belief that being healthy goes beyond the number on the scale and that leading an overall healthy lifestyle is what is most important. One clear demonstrator of this shared approach ideology is Garmin's Index Smart Scale, which goes far beyond simply displaying a person's weight. It connects over WiFi and measures a multitude of key metrics including body mass index (BMI), body fat, water percentage, and skeletal muscle mass.
 
Garmin has more than a decade of wearable device expertise and provides an extensive suite of products designed to match any individual's activity requirements. In addition to the Index Smart Scale, the IDWellness mobile app interfaces with partnership focuses on Garmin's line of vívo activity trackers. The vívo line of activity trackers offers a water rating of 50m and long battery life, with the vívofit 3 boasting a one+ year battery life of up to one-year. Other noteworthy Garmin device features (which vary by model) include wrist-based heart rate, smart notifications, a diverse range of activity profiles to track workouts, and automatic activity detection with Move IQ™. With many styles, features, sizes and colors available, there is a Garmin wearable for everyone, regardless of fitness level or activity preference.
These devices will be incorporated into the IDLife product line for purchase on IDLife.com and will eventually integrate with IDLife's activity and meal tracking platform, IDWellness. Integration between IDWellness and Garmin wearable devices will automate activity tracking within the IDWellness application, removing the need to manually update workouts, steps, sleep, and more throughout the day.
As a result of this new relationship, partnership, more people than ever before will be equipped with the innovative features of Garmin wearable devices and the incredible products of IDLife to help them lead a healthy and active lifestyle. For general information please call IDLife at: (972) 987-4430 or visit us online at http://www.IDLife.com.
About IDLife
IDLife, LLC is a Frisco, Texas based company that provides customized nutrition, starting with a HIPAA compliant online assessment. Take the guesswork out of your daily nutritional supplements. IDLife – Healthy Simplified.
About Garmin
Garmin International Inc. is a subsidiary of Garmin Ltd. (Nasdaq:GRMN). Garmin Ltd. is incorporated in Switzerland, and its principal subsidiaries are located in the United States, Taiwan and the United Kingdom. Garmin and vívofit are registered trademarks , and vivohub is a trademark of Garmin Ltd. or its subsidiaries. All other brands, product names, company names, trademarks and service marks are the properties of their respective owners. All rights reserved.