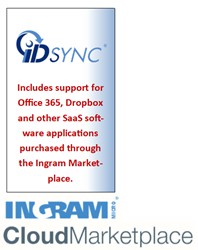 Connect your Autotask or ConnectWise system to the Ingram Marketplace
PERRYSBURG, Ohio (PRWEB) October 31, 2018
CLOUD BILLING STUDIO FOR INGRAM MARKETPLACE, AUTOTASK AND CONNECTWISE
IDSync® announced the release of their IDSync® Cloud Billing Studio to provide direct data linkage between the Ingram Marketplace (Odin Automation) and the billing systems, Autotask or Connectwise, used by their MSP resellers of Office 365, Dropbox and other SaaS offerings.
THE BILLING CHALLENGE, SaaS SOFTWARE
The lack of a digital conduit between systems means that a manual and redundant process is required to prepare the invoicing and other management reports necessary to manage the sale of hosted software. The challenge is to manually collect, collate, match and apply license add/change/deletes that have been entered into the Ingram Marketplace to a corresponding customer and subscription in the Autotask or ConnectWise systems.
A SOFTWARE PACKAGE AND A PROCESS THAT WORKS
To scale a MSP in a profitable way, efficient operating processes must be employed such that the cost of administration does not exceed the margin associated with the sale of the software subscription or the time available to get an invoice out the door.
PROMPT PAYMENT REQUIRES A PROMPT INVOICE
To be paid promptly, one must invoice promptly. To delay invoicing is to invite collection and customer satisfaction issues. To try and produce an accurate invoice can take significant administrative effort and be a burden on the IT and business staffs at times of the month when they are already under month-end stress.
A BETTER WAY - CURRENT BILLING DATA AS NEEDED
Use IDSync's Billing Studio for the Ingram Marketplace and connect your Autotask or ConnectWise system to the Ingram Marketplace. The Billing Studio software monitors the Marketplace for changes in license count and fresh billing data will update your ConnectWise or Autotask system when you need it, all automatically. IDSync® eliminates the manual chores of maintaining the timeliness and accuracy of your customers' usage of Marketplace services and makes it easy to get an invoice out the door.
AVAILABLE FROM Ingram Micro Marketplace– EASY, SIMPLE SETUP
The IDSync Billing Studio software is available on monthly subscription basis from the Ingram Micro Marketplace for immediate use. Along with the software package, QuickStart, training for the office staff is available as needed. It is focused on the needs of the back-office staff showing them how to how to take advantage of the features of the system and apply it the MSP's specific situation and get up and running quickly.
ABOUT IDSYNC®
Located in Perrysburg, Ohio IDSync® provides an identity management platform that accelerates adoption of cloud services, integrates to on-premise technologies such as Microsoft Active Directory, and lowers costs for Enterprise Customers, Service Providers, and SaaS application providers while improving security and ease of use for the end-user.