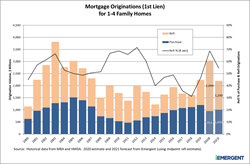 The projected 20% decrease in purchase volume from 2019 to 2020 marks the first year of decline in the purchase market since 2011. However, total volume may increase as much as 42% driven by an enormous refinance boom.
DES MOINES, Iowa (PRWEB) August 14, 2020
iEmergent, a Des Moines, Iowa-based forecasting and advisory services firm for the financial services, mortgage and real estate industries, issued an update to its 2020-2024 U.S. Total Mortgage Volume Forecast today, projecting that 2020 U.S. total residential mortgage lending may reach as high as $3.21 trillion, driven primarily by a refinance market that could more than double from 2019 to 2020 to reach a high of $2.26 trillion. On the purchase side, however, the forecast shows a decline of approximately -20% for a purchase total of $953 billion - due to widespread unemployment and unprecedented uncertainty on account of the coronavirus pandemic.
Highlights for 2020 include:

2020 Purchase Originations: 3.45 million loans for $953 billion
2020 Refinance Originations Range: 7.04 million loans for $1.92 trillion to 8.26 million loans for $2.26 trillion
2020 Total Originations Range: 10.49 million loans for $2.88 trillion to 11.71 million loans for $3.21 trillion
The projected 20% decrease in purchase volume from 2019 to 2020 marks the first year of decline in the purchase market since 2011. Despite this drop, total origination volume could increase nationally as much as 42% from 2019 – 2020, as historically low rates have propelled an enormous refinance boom.
For 2021, purchase originations will show a modest increase of 5.3%, if the COVID-19 pandemic risk decreases, the economy stabilizes, and more households return to work. Refinance originations are expected to fall by approximately 42% to fall within a range of $1.01 -$1.33 trillion, resulting in total origination volume between $2.09 and $2.33 trillion.
"This pandemic has had an enormous impact on everyone, and the pace of its resolution is still very uncertain. With the original shutdowns and stay-at-home orders, we quickly experienced widespread layoffs and furloughs which brought economic hardship to millions of households," said Mark Watson, Chief of Forecasting for iEmergent. "However, government efforts have helped cushion some of the pain, and many parts of the private sector have adapted extremely well. In fact, some pockets of the economy are doing as well as, or even better, than before."
That has helped drive quicker recoveries in some market sectors. The home purchase market experienced a steep drop initially, but quickly recovered a significant part of its loss. It will be down from last year; however, the forecast shows that the composition of the purchase market will also shift due to disparate impacts on different segments of the homebuyer pool.
"When we look at purchase mortgage originations by various race, ethnic, and income groups, we are expecting a much steeper decline from 2019 to 2020 for minority borrowers, due to how much larger the negative economic and health impact of COVID is on communities of color," said Laird Nossuli, CEO of iEmergent. "Instead of the 20% drop for overall purchases, we are expecting purchase loans to African-American and Hispanic borrowers to drop by 35% to 40% in 2020; and for many of these households, the negative impact of the pandemic will carry over into 2021 and beyond."
About iEmergent
Founded in 2000, Des Moines, Iowa-based iEmergent provides mortgage lending opportunity forecasts and market analytics to the mortgage lending, housing, and real estate industries. The company offers an extensive variety of advisory services and market intelligence products, including the Mortgage MarketSmart and DIVERSIFi software platforms that are designed to help lenders execute market-driven strategies that not only improve their front-end origination efficiencies, but also deepen their connections and commitments to all American households and communities, regardless of race, ethnicity or economic status.