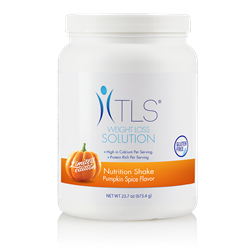 GREENSBORO, N.C. (PRWEB) October 14, 2020
With cooler weather and the fall season approaching, it's time for pumpkin spice — a flavor that most people look forward to this time of year. At Market America | SHOP.COM, we wondered why this orange gourd gets so much love and learned that pumpkins are very symbolic in American culture. Being the oldest domesticated plant in the New World, pumpkins helped sustain colonists when the crops they brought from Europe failed. When people eventually moved to cities as America grew, pumpkins remained a nostalgic representation of that agrarian way of life. As the popularity of the pumpkin's unique blend of spices grew, we began putting it in everything — even coffee! In fact, Forbes estimated that in 2015 the pumpkin spice latte produced more than $100 million in sales while in 2018, a Nielsen report revealed a staggering $488.8 million worth of pumpkin-flavored products were sold.
Now you can get the new, limited-edition TLS® Nutrition Shake – Pumpkin Spice Flavor that not only tastes great but can help keep you on track through the holiday season and meet all your powerful pumpkin cravings! Transitions Lifestyle System (TLS) Weight Loss Solution provides this must-have seasonal shake as a complement to its customized program and to fit you and your unique lifestyle. With TLS, you choose your own plan, which means you can stay on track while enjoying the most popular flavor of the season! Here are three reasons how:
1. The TLS Nutrition Shake – Pumpkin Spice Flavor is formulated to deliver a balance of protein, vitamins, minerals and 10 grams of fiber in every serving. It's also a delicious treat between meals that will keep you going. The savory flavor of this fall spice will help satisfy your cravings. With whey protein, pea protein, calcium, magnesium, potassium, biotin, vitamins A, C, B1, B6, B12, D3 and E, and more, the guilt is gone and all that's left is satisfying your craving for pumpkin spice.
2. This gluten-free and sugar free shake is also versatile. Mix it with milk or water or blend it with ice for a thicker consistency. You can also add in spices like cinnamon, nutmeg and ginger to mix it up.
3. With 18 grams of protein per serving, the TLS Nutrition Shake – Pumpkin Spice Flavor is a limited-edition item, so hurry up and treat yourself to something delicious!
Be sure you get your TLS Nutrition Shake – Pumpkin Spice Flavor before it's too late, and get ready for the holidays when our TLS Cookies & Cream Shake makes its debut! Check back here to find out when it's available!
Market America |SHOP.COM is a global product brokerage and Internet marketing company that specializes in one-to-one marketing.