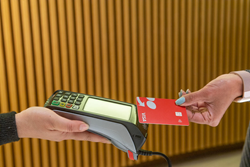 Small businesses in Brazil and other parts of Latin America don't have easy access to basic financial services. About half the population is unbanked or underbanked. Without a bank account or credit history, annual interest rates on credit cards recently averaged nearly 300 percent. (source: WSJ)
SÃO PAULO (PRWEB) November 04, 2020
iFood, the leading foodtech in Latin America, announced today that it has launched the first "bank for restaurants" in Brazil via an exclusive iFood Digital Account for restaurants registered on the iFood online delivery platform. The iFood Digital Account was developed by MovilePay, one of Movile Group's fintechs, and is integrated with a prepaid Visa card announced in August. Now, more than 236,000 restaurant establishments have access to free financial services.
Small businesses in Brazil and other parts of Latin America do not have easy access to basic financial services. About half the population is unbanked or underbanked. Without a bank account or credit history, the annual interest rates on credit cards recently averaged nearly 300 percent on unpaid balances, according to the Wall Street Journal. These sky-high lending rates hurt Brazilian consumers and overall economic growth. This major challenge is caused, in part, by a lack of competition. In Brazil, five banks control the majority of the financial services market and charge customers very high fees.
The new iFood Digital Account brings together several services in a single portfolio. Restaurant entrepreneurs can carry out banking transactions (transfers, payment of slips and cards), credit transactions (prepayment of receivables from iFood and credit transactions) and acquisition (POS offer and payment via QR Code). With the new iFood Digital Account, restaurants will have access to less transaction fees and much lower credit interest rates.
In addition, it will be possible to carry out transactions via PIX, Brazil's new instant payment system launching next month, to restaurants that have registered and choose to participate in PIX. The introduction of PIX is expected to bring broader financial inclusion to Brazil and dramatically speed the completion of payments within seconds versus 24 hours or more. PIX instant payments are free instead of having a bank fee attached to each transaction. Pundits anticipate PIX will be a boon for e-commerce.
"Our work is totally centered on restaurant owners. So, we know the daily challenges they face with management and financial operations, which are crucial to success. In addition, many of these restaurants, especially small and medium-sized merchants, face several obstacles in opening business accounts, access to credit and other benefits necessary to run their businesses and grow. The iFood Digital Account guarantees access to the best services with no bureaucracy, thus contributing to the democratization of financial services," said Daniel Bergman, CEO of MovilePay.
The new accounts are available to all owners of restaurant establishments registered with iFood and will not charge any transaction fees or monthly fees. With the account and card developed for these restaurants, entrepreneurs will now have access to a range of safe and simple financial services, with the benefit of centralizing expenses and revenues on one platform. To have access, they just need to download the application via a cell phone or use it on the restaurant's website.
"As the largest foodtech in Latin America, iFood understands that its mission extends far beyond food delivery. In partnership with MovilePay, we are now facilitating financial services for restaurants that reduce their bank costs and increase their profits. Through the same iFood app they rely on today, restaurant owners may now quickly open a digital business account and carry out transactions without costs and without bureaucracy, precisely in this challenging moment of reopening their dining rooms. This is another step that we are taking to be the preferred bank of our partners," said Ricardo Ubrig, commercial director for iFood.
The new offering was developed in partnership with Zoop, a Movile Group company that offers Banking-as-a-Service technology for any company to create digital account services with its own brand for its customers. The iFood Digital Account ensures greater convenience for business owners, due to the absence of fees and bureaucracy.
"Because the new digital accounts have no fees and bureaucracy, they represent an enticing incentive for these businesses. We support access to financial services for small and medium-sized restaurants, which often have difficulty obtaining credit, for example. We want to be partners with these entrepreneurs and hope that a large number of restaurants in iFood's massive network will create digital accounts in the coming months," concluded Bergman.
About iFood
iFood, the leader in online food delivery in Latin America, delivers more than 44.6 million monthly orders. In the market for nine years, the company of Brazilian origin is now also present in Mexico and Colombia. It works with partners with initiatives that bring together business intelligence and management solutions for the approximately 236,000 restaurants registered in more than 1,000 cities across Brazil. iFood's investors include Movile, a global leader in mobile marketplaces, and Just Eat, one of the largest online ordering companies in the world. For more information, visit: https://www.ifood.com.br
About Movile
Movile is a company that invests and develops technology and people businesses, so that they reach their maximum potential. We have a team that is passionate about challenges and that dreams big, with the goal of impacting the lives of 1 billion people. We are specialists in finance, management, culture and innovation. We work daily to support companies in our ecosystem to achieve exponential growth and professionals to develop at an accelerated rate. For more information, visit: https://www.movile.com.br
About MovilePay
MovilePay, a Movile Group fintech, was founded with the objective of offering financial solutions, such as credit, acquiring (POS and QR Code) and banking services (account and digital wallet), implemented through partnerships with other companies in the sector technology, starting with iFood. Born in 2019, the startup aims to revolutionize the payments and financial services market by bringing uncomplicated, innovative and digital solutions for users, and especially for commercial establishments, such as restaurants.
About Zoop
Zoop is the leading fintech in technology for financial services in the B2B market, operating in the means of payment, banking as a service (BaaS) and credit segments. Zoop's products combine technology and regulatory compliance, allowing any company - be it a start-up, a marketplace or even a large mature company - to create and offer financial services, under its own brand, in a simple, efficient and secure way. In this way, Zoop helps make the future of financial services more democratic, boosting the participation of new players in the financial industry and the creation of services that better serve all sections of the population. For more information, visit: https://zoop.com.br
Media Contacts
United States:
Chris Knight, PR director for Movile
Based in San Francisco, Calif.
chris@divinogroup.net
(415) 786-9226 c. (on WhatsApp)
Brazil:
Olivia Nercessian
+55 11 95433-0000
olivia.nercessian@movile.com