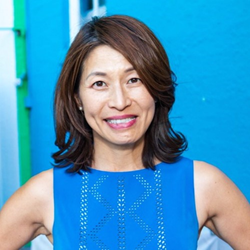 Claire brings a unique lens in an industry that has traditionally been dominated by male investors, and we're thrilled to be supporting her as she embarks on this new fund. -- Han Kim, managing director at Altos Ventures Management
PALO ALTO, Calif. (PRWEB) November 10, 2021
igniteXL Ventures, a global beauty and wellness-focused venture capital firm in Silicon Valley, has raised a debut $10M fund to back disruptive products, services and business models in beauty and wellness. Formed at the start of the COVID-19 pandemic, the fund has attracted a global profile of prominent VCs and strategic LPs, including Han Kim of Altos Ventures Management, Perry Ha of Draper Athena, Allen Miner of SunBridge Group, CTK USA Holdings and the world's leading cosmetics ODM Cosmax.
Beauty and Wellness is a $5 trillion global market going through a massive digital and cultural transformation with strong resilience to downturns and attractive structural economics. The pandemic has shown us all that wellness of mind and body is not a luxury but a necessity.
igniteXL is led by solo General Partner Claire Chang, a 20-year Silicon Valley veteran and experienced angel investor with deep connections to the K-beauty industry in her native Korea and global Fortune 500 brands in the wellness and beauty space.
Claire moved to the U.S. from Seoul, Korea when she was 12 years old and built her career working with international startups through a Korean-government-run accelerator before starting her own global accelerator in 2014. After working with over 200+ early stage startups, Claire saw a gap in funding from angel to seed — where there were very little pre-seed institutional investors — and also observed the frustration of female founders who found male investors unsavvy to the market and few female VCs to work with.
Today VC partners in the US are still 95.6 percent male and only 4.1 percent female. While the market potential for beauty and wellness investment is remarkably stable, it's largely ignored because it's seen as a women's segment. This is a $5 trillion dollar oversight. It was this necessity and opportunity that prompted Claire to create the igniteXL Ventures fund.
"Technology has always been at the forefront of significant industry change, and it's high time it revolutionized the $5 trillion beauty and wellness space," said Claire Chang, founder and GP of igniteXL. "igniteXL is proud to seek out and back diverse founders leveraging technology to build products and services that empower consumers to improve their quality of life. We believe diversity isn't a hoop to be jumped through; it's a path to be taken."
Leveraging her connections with Korea and other parts of Asia, igniteXL Ventures is well positioned to support founders to think globally early on.
"We pride ourselves on Silicon Valley being the birthplace of innovation, yet there's so much happening at the intersection of tech, beauty, and wellness that we're woefully behind on," said Han Kim, Managing Director at Altos Ventures Management. "Claire brings a unique lens in an industry that has traditionally been dominated by male investors, and we're thrilled to be supporting her as she embarks on this new fund."
Despite the COVID-19 pandemic, igniteXL Ventures' fund has hit the ground running by investing in a broad portfolio of early stage and stealth startups such as:
BuyWith - Frictionless livestream platform co-founded by Adi Ronen and Eyal Sinai
Dame - Holistic sexual wellness brand founded by Alexandra Fine
Good Light – Skincare for all and gender fluid beauty co-founded by David Yi and Michael Engert
Idoru - A stealth startup co-founded by Mica Le John and Michael Taylor
Just Wears - Biodegradable textile innovation in men's basic wear co-founded by Yang Liu and Alexander Walsh
Oros - High-warmth outerwear using insulative technology founded by Michael Markesbery and Rithvik Venna
Revea - Personalized skincare with a diverse founding team co-founded by Chaz Giles, Kana Panchmatia and Troels Marstrand
Tabella - Digital community/social app for religious groups founded by Juan Acosta
"Claire leads a very transparent process and from day one, every conversation has always been genuine, warm, insightful, and helpful," said Juan Acosta, Founder and CEO of Tabella, a social networking platform for faith communities. "I truly believe that igniteXL's investment goes beyond a business partnership. It is truly a friendship built on trust with a founder's best interest at heart."
About igniteXL Ventures
igniteXL Ventures is a Silicon Valley-based global seed fund investing in game-changing founders at the intersection of technology, beauty and wellness. With its ties to Korea, igniteXL leverages its global partnership network to open new markets and provide founders with resources and connections critical to their success. The firm launched Silicon Valley's first-ever beauty tech accelerator in 2018, SVBeautyTech, and has since pioneered discovering technology forward companies led by women and diverse teams that bring wellness innovation to the world. Learn more at: https://ignitexl.vc/