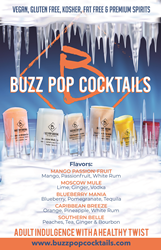 "Right after winning the Gold Medal at the 2019 Proof Awards in Las Vegas last month, Buzz Pop Cocktails is proud to be named a partner/sponsor for this event. We are about innovation and bringing change to a stagnant industry," says Joseph Isaacs, CEO.
MIAMI (PRWEB) July 03, 2019
IGNYTE - A progressive-minded group of social impact advocates, like-minded business leaders, international fashion designers, musical talent, along with other corporate and media partners and lifestyle brands from around the globe, are proud to announce IGNYTE MIAMI. A Division of IGNYTE Transformational Media, IGNYTE MIAMI unites people in a shared global narrative, raising awareness about the issues facing the world today, such as, the immigration crisis, ocean conservation, and storm aid, through creative expression and showcases within the realms of Music, Fashion, and the Arts. The event will commence during Miami Swim Week, from July 11th to the 16th 2019, taking place at various luxury venues in Miami and Miami Beach. "Right after winning the Gold Medal at the 2019 Proof Awards in Las Vegas last month, Buzz Pop Cocktails is proud to be named a partner/sponsor for this event. We are about innovation and bringing change to a stagnant industry", says Joseph Isaacs, CEO.
The goal of IGNYTE MIAMI is to activate and empower ground-breaking eco-lifestyle and sustainable brands and products, inspire global citizens to impact their own environment, and evoke awareness of social and environmental issues affecting us today. IGNYTE Transformational Media as a global platform aims to achieve this by converging 2000+ similar-minded taste makers, fashionistas, industry leaders, creative forces in fashion, music, film and arts, local and international media, social media influencers and one of a kind Buzz Pops.
IGNYTE MIAMI is proud to partner with Buzz Pop Cocktails (http://www.buzzpopcocktails.com) and some fantastic Miami venues. The venues of choice include: The W Hotel, La Sombra (Fairwind Hotel), and the chic Island Gardens. Described as 'the heart of Miami', our host venue Island Gardens (http://www.islandgardens.com) will play host venue to a majority of events in conjunction with The ARKUP, the first fully-sustainable, zero-emission, solar-powered floating villa yacht, brought to the world by House Yacht Living (http://www.houseyachtliving.com). Guests will be able to purchase VIP passes to tour and enjoy the festivities while on board the prototype ARKUP #1 vessel. Throughout the week's events all guests will be able to enjoy the World's 1st Adult Alcoholic Push-Pops, by Buzz Pop Cocktails.
The event starts on July 11th with a media and sponsor reception hosted at Irma's at W Hotel South Beach, the beautiful outside bar named after the devastating hurricane that affected the lives of millions in Puerto Rico. This will be followed by the 'Power of One' Industry Summit on July 12th that will showcase swimwear collections from King of Extra and Greatest Luv by Viggo. Special guest, actress and musician Jackie Cruz (from 'Orange is the New Black' on Netflix), DJ Yissel, and others supporting the Power of One Foundation and Film will also be a part of the showcase.
Each morning from July 12th -14th, Alo Yoga, along with expert yogis Andrew Sealy and Naya Rappaport, will host a 2 hour yoga and acro yoga experience at the Wood Deck at Island Gardens. Guests will be provided with official Alo yoga mats and yoga attire included in ticket purchase.
On July 12th and 13th, IGNYTE Transformational Media will launch its new cause-driven TV network: IGNYTE.TV (http://www.ignyte.tv), adding to a platform that already boasts a global media platform which includes the new IGNYTE Magazine (http://www.ignyte.world), IGNYTE Eco-Lifestyle Lounge, IGNYTE Radio, IGNYTE Eco-Store, and IGNYTE Events. In addition, select IGNYTE Channel programming, which includes features such as Buzz Pops, will be streamed to an estimated 500 million TV viewers locally and internationally, through partnerships with YouTube, ROKU, AppleTV, Comcast On Demand, MyJamMusic Network, SIMULTV, and other media partners.
Also commencing on July 13th , the IGNYTE MIAMI ECO-LIFESTYLE LOUNGE showcase will take center stage with a convergence of Eco-Conscious and Sustainably-minded talents, fashion brands such as MABI and Archipelago, and featuring global initiatives. Hosted by Founder and CEO of IGNYTE Transformational Media, Brigitte Perreault, this day will also feature live performances by Sweden's own Royal Prospect, Sustainable Recordings' Erick Paredes & Friends Live, DJ Yissel and others.
On July 14th, as part of a Bastille Day Celebration, Male model DJ Willy Monfret, Johan Pfeiffer, DJ ANN, and others, will indulge the audience with their house grooves, during the early hours at 'Sundays On Deck Bastille Day Brunch'. The afternoon will then usher in world-renowned member of Major Lazer, Walshy Fire, as he brings the program a special 'Rum & Bass' Pop Up edition. Once again all guests will be able to enjoy Buzz Pop Cocktails; who was just voted world's #1 alcoholic popsicle by the Huffington Post.
The Sunday evening will bring a special treat for the fashionista guests, as celebrity designer Giannina Azur, who recently closed out Miami Fashion Week 2019, with her unparalleled expression of creativity, will showcase her latest collection. Jackie Cruz will grace the night as host, dressed in Giannina Azur, to complement the glitz and glamour of the festivities brought to Island Gardens.
Buzz Pop Cocktails is in great company with other sponsors for IGNYTE MIAMI, including: House Yacht Living, ARKUP, Island Gardens, W South Beach, Fairwind Hotel, IGNYTE.TV, YouTube, Bacardi, Moet & Chandon, I'm Fil, Canel, South Beach Group, Veza Sur Beer, Buzz Pop Cocktails, Alo Yoga, IGNYTE Magazine, Decadence & Modesty, 6ixPM, Nestor Cover Models, Maison Valentine, The Media Group Inc., Nicole Shelley Models, DC Swim Week, Overmind, Shhh Lounge, VENTIGOTH, Mix Media, Hemplade, and Randy Singer Music.
GA and VIP tickets are available now at https://ignytemiami.yapsody.com/. A percentage of event proceeds will go to our participating charities: Power Of One Foundation, Green Alliance International, and Storm Aid Foundation. IGNYTE MIAMI still has sponsorship opportunities, and designer showcases available. If interested to participate, contact tickets(at)ignyte(dot)world.
About IGNYTE Transformational Media:
IGNYTE Transformational Media is a cause-driven international media platform connecting people to social issues, building a public square to circulate visions, initiatives, ideas, and promoting healthy sustainable living. The latest issue of IGNYTE Magazine featuring the travesty of plastics in our oceans, can be viewed at http://www.ignyte.world.
"By supporting and sharing each other's initiatives and movements, we impact our world. Together we lead the way." – Brigitte Perreault, Founder and CEO.
About Buzz Pop Cocktails:
Beginning its journey in March 2016 and re-launching in Tampa, Florida in September 2018, Buzz Pop Cocktails is the only ready-to-serve, all natural 100% fruit, authentic Italian sorbet made with top shelf liquors. Buzz Pops only serves their customers a high-quality, all-natural frozen specialty sorbet. Buzz Pops was recently the rfecipient of a Gold Medal in the 2019 Pr%f Awards and also ranked number 1 alcoholic popsicle by Huffington Post. It's an "Indulgent premium cocktail with a healthy twist" delivered in an old-fashioned, see through push pop. Buzz Pops are not sold in liquor stores but instead through a food service model which includes such iconic customer brands such as Caesar's Entertainment, Aramark, Levy Restaurants, TAO Group, Waldorf Astoria, 4 Seasons, Ritz Carlton, Marriot, Wyndham Hotels and Disney Springs. Buzz Pops are also available in convention centers, sporting arenas, at corporate/private events and through event planners. http://www.buzzpopcocktails.com