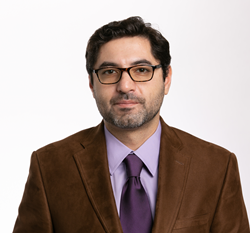 Virginia Lewis, Vice President and Head of RMD, said "Igor gives us the ability to expand our offerings in the data and analytics space to meet the needs of current and future clients," she said. "His deep understanding of data and how to interpret and use it to improve performance is unparalleled."
ATLANTA (PRWEB) February 08, 2022
Vladimirovskiy, a native of St. Petersburg, Russia who has lived in Atlanta for 30+ years, will direct a team committed to enhancing RMD's ability to collect and interpret data with a focus on projections, modeling and business intelligence. RMD, a subsidiary of Response Mine Interactive, is an industry leader in data-driven direct response marketing, with more than 20 years' experience helping clients get the most from their marketing investments.
"A comprehensive approach to data and analytics is a cornerstone of any long-term successful marketing approach," Vladimirovskiy said. "RMD is well positioned to leverage their data and analytics solutions to help clients reach new performance heights."
Vladimirovskiy, who has an undergraduate degree in Economics and earned a Juris Doctorate degree in 2009, began his marketing career at Response Mine in 2005 as a search manager. He returns to the company after gaining further experience on the agency side, at Searchignite, and on the corporate side, as Digital Media and Performance Director at Rooms To Go.
His vertical expertise includes Retail, Travel/Hospitality, Automotive, Finance, Education and Telecom. He has worked with clients and accounts of all sizes, managing budgets ranging from $500 to $500,000 per day.
Virginia Lewis, Vice President and Head of RMD, said Vladimirovskiy will be a tremendous asset for the company and its clients. "Igor gives us the ability to expand our offerings in the data and analytics space to meet the needs of current and future clients," she said. "His deep understanding of data and how to interpret and use it to improve performance is unparalleled."
About Response Mine Digital: RMD is the premier digital agency for enterprise retail and health and wellness marketers who are ready to improve their marketing to acquire more qualified customers using a direct response strategy.
More information about Response Mine Digital can be found at http://www.responseminedigital.com. For more information or media inquiries, contact Karen Cahill at karen.cahill@responsemine.com.