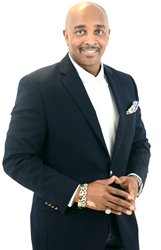 When we heard Trump's promise of Making America Great Again, it sounded hopeful to many, but at what cost?
HOUSTON (PRWEB) September 26, 2018
Since 2016, Americans have faced with a red-blue political standoff with a lingering debate over economic growth, healthcare, immigration and how to secure sustainable solutions. This month iHeartRadio's renowned network producer, Rushion McDonald, the man behind many Steve Harvey productions, featured Dr. D. Ivan Young, one of the top relationship experts in the country, on his radio show, Money Making Conversations. Dr. D. Ivan Young, who is known as the Reality Check Doctor®, discussed how Americans could overcome daily challenges by adopting scientific methods to help build confidence for change.
For over a decade, Dr. D. Ivan Young has dedicated to helping people create a positive, lasting transformation in their lives. His life coaching contributions have caught the eye of two White House administrations, and sequentially, he is the recipient of two The Presidential Lifetime Achievement Awards.
Heavily impacted by the change in Presidency, Young is writing a book about the current state of America since Donald Trump took office, which he believes became a catalyst for the emergence of hate-filled xenophobic extremists from America's dark past. Young has never been afraid to speak from the hip and promises to confront the controversial dividedness of the United States with proven facts based on behavioral science.
"When we heard Trump's promise of Making America Great Again, it sounded hopeful to many – but at what cost?" asked Dr. D. Ivan Young, a Certified Master Neuro-Linguistic Programming Practitioner. "The America that many of us had hoped for and thought already existed is still far from our reality."
On the podcast segment, Rushion McDonald credits Dr. D. Ivan Young for encouraging him to host his own show, Money Making Conversations on iHeart. Now, almost a year later, Money Making Conversations is a popular weekly talk show with Rushion interviewing celebrities and business entrepreneurs about fame, ambition, finance, personal goals, and empowerment.
Dr. D. Ivan Young's public speaking sessions have gone viral on YouTube; his TEDx Talk has garnered over one million views for his theories on laws of attraction and emotional intelligence. Young's provocative views on complex subjects and exclusive understanding of personality types are what invite him back to media outlets like, iHeartRadio, CNN and MSNBC. Dr. Young has also appeared on the reality show for Oxygen Network, Snapped – Killer Couples, where he has offered insight on murders performed by lovers who have let greed overpower loyalty, resulting in a gruesome dead end.
To hear Dr. D. Ivan Young on Rushion McDonald's Money Making Conversations, visit iHeartRadio podcasts on iheart.com. For more information about Dr. D. Ivan Young and his public speaking appearances, visit drdivanyoung.com.