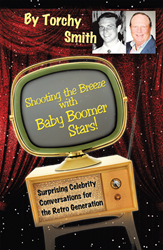 CLEVELAND (PRWEB) November 26, 2018
Gleaned from interviews on his iHeartRadio talk show "Baby Boomers Talk Radio," Torchy Smith shares stories and insights about baby boomer celebrities in his book "Shooting the Breeze with Baby Boomer Stars! Surprising Celebrity Conversations for the Retro Generation."
The book presents first-hand accounts of baby boomer celebrities from beloved TV shows and films such as Jerry Mathers (Leave it to Beaver), Bill Mumy (Lost in Space), Stephen Furst (Animal House), and Clint Howard (The Andy Griffith Show, Gentle Ben) The interviewees discuss their memories working on projects, behind the scenes secrets, and the lasting cultural impact of the baby boomer generation. Additionally, the book features a foreword written by Geraldo Rivera, a friend of Torchy.
"There are still 74 million living baby boomers in the United States," said Smith. "Even though we have the greatest piece of demographic pie we are being ignored by Hollywood, which is why my book is so important."
"Shooting the Breeze with Baby Boomer Stars" is an entertaining collection of first-person stories and histories for pop culture enthusiasts.
"Shooting the Breeze with Baby Boomer Stars:
Surprising Celebrity Conversations for the Retro Generation"
By Torchy Smith
ISBN: 9781480867840 (softcover); 9781480867857 (hardcover); 9781480867864 (eBook)
Available at the Archway Publishing Online Bookstore, Amazon and Barnes & Noble
About the author
Torchy Smith has interviewed well over 100 celebrities on his iHeartRadio talk show "Baby Boomers Talk Radio." He attended Butler University and Kent State. May 4th, 1970 was Smith's last day at Kent State, where he witnessed the shootings by the Ohio National Guard. He was a graphic design student and had worked doing advertising layouts for several employers. After gravitating to sales and building a successful career selling to large retailers, Smith began investing in real estate in the 80s. At the same time, he also started a ribbon business, which he sold in 2006 and went into semi-retirement. Smith always had an interest in seeking a way to combine his nostalgia obsession with communications through the internet. As a self-starter, he learned and kept up with the computer age that was surging in the 90's. Smith was then able to combine those skills with his graphic design background. What resulted was his accomplishments in creating videos and communications with celebrities from the past. Smith has been on numerous radio programs, commenting on the pulse of where baby boomers now fit into today's world. To learn more, please visit http://www.babyboomerstalkradio.com.
###
General Inquiries:
LAVIDGE – Phoenix
Bryan Beach
480-306-6554
bbeach(at)lavidge(dot)com