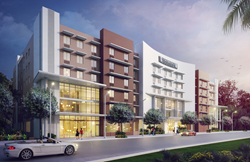 "We are very pleased to bring our upscale extended-stay brand to the Miami market," said Marianela Hernandez, president, Grapeland Hospitality Development, LLC.
MIAMI (PRWEB) August 22, 2018
The 153-suite Staybridge Suites Miami International Airport, an IHG hotel in Miami, Florida, opened August 16, 2018. Located at 3651 NW 25th Street, the all-suite hotel, owned by Grapeland Hospitality Development, LLC will be managed by Buffalo Lodging Associates under a 3rd party management agreement.
A fully integrated hotel development and management organization, Buffalo Lodging is providing operational, sales and marketing, payroll and accounting services for the new hotel. Buffalo Lodging Associates, in partnership with Benderson Properties, owns and operates hotels in New York, Massachusetts, Ohio, Connecticut, Rhode Island, Florida, New Jersey, Missouri and Ontario, Canada.
"We are very pleased to bring our upscale extended-stay brand to the Miami market," said Marianela Hernandez, president, Grapeland Hospitality Development, LLC. "Whether traveling on business, relocating or planning a vacation with family, our guests in the Miami area will find that Staybridge Suites offers the best of home and hotel."
The new six story hotel offers a combination of deluxe studio, one-bedroom and two-bedroom accommodations, featuring fully equipped kitchens with separate living and sleeping areas. Some suites feature views over Florida's Palmer Lake and Miami River. All suites include well-lit work stations with ergonomic seating, speaker phones, personal voicemail and complimentary local phone calls.
Consistent with the Staybridge Suites brand, the new property offers exceptional guest amenities including a complimentary daily breakfast buffet, onsite guest laundry and workout facilities, a complimentary 24-hour business services center and convenience store stocked with snacks, sundries, beverages and easy-to-prepare meals. The property offers more than 750 square feet of flexible meeting space that can accommodate up to 24 people for corporate events.
This is the only Staybridge Suites within the brand that includes an on-site restaurant offering a la carte dinner, a comfortable lounge area with a full bar. Unwind at the luxurious outdoor pool area featuring a Juice Bar offering adult beverages and snacks, and patio with a fire pit.
Guests will get comfortable in the hotel's Great Room during evening receptions three days a week for complimentary refreshments, light appetizers and conversation. The hotel features HDTV's that are situated in the hotel's common area, surround-sound and comfortable chairs. Guests at the Staybridge Suites Miami International Airport can get Internet connectivity throughout the hotel with complimentary "Wireless Anywhere."
The new property is located less than a mile from Miami International Airport, just minutes from downtown Miami and major hospital centers; University of Miami Miller School of Medicine's, Bascom Palmer Eye Institute and Sylvester Comprehensive Cancer Center.
Travelers will also enjoy easy access to the famous and historic Venetian Pool near Coral Gables and Marlins Park for major league baseball. Grapeland Water Park, Wynwood Arts District and Florida's Atlantic Coast are also just a short drive away from the hotel.
Complimentary airport shuttle service is provided to and from Miami International Airport and the Miami Intermodal Station, which services the Tri-Rail, Greyhound, Mega Bus and Amtrak. Conveniently located just east of the airport and serving downtown Miami and points along South Florida's Atlantic coast.
"The location of this new hotel is ideal because of its close proximity to several businesses and area attractions," said Alysha M Hoyer, general manager of Staybridge Suites. "We are looking forward to providing the comfortable and stylish accommodations of Staybridge Suites to our guests, who will be traveling for an extended amount of time or a quick overnight stay."
Staybridge Suites Miami International Airport participates in IHG's guest loyalty program, Priority Club® Rewards. The industry's first and largest guest loyalty program has 42 million members. Priority Club Rewards membership is free, and guests can enroll by logging on at priorityclub.com, by calling 1-888-211-9874 or by inquiring at the front desk of this hotel or any of IHG's more than 4,150 hotels worldwide.
To request more information about Staybridge Suites Miami International Airport, please call (786) 629-1413 or visit http://www.staybridgemiamiairport.com.