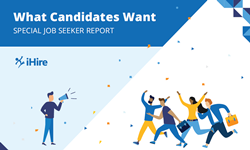 "It's truly a unique time to be a job seeker, given the dramatic changes and challenges COVID-19 has brought to the employment industry." - Steve Flook, iHire President and CEO
FREDERICK, Md. (PRWEB) May 04, 2021
iHire today published the results of its "What Candidates Want" survey, which polled 5,835 U.S. job seekers on their job search preferences, behaviors, and habits one year into the COVID-19 pandemic. Survey responses and implications for hiring managers, HR teams, and recruiters are detailed in the special report, available for download: https://go.ihire.com/8482
According to iHire's survey results, today's job candidates want the following:

Remote Work Options: 47.8% of job seekers surveyed said it is "very important" or "important" to find jobs that allow them to work from home, while 20.2% said it was "somewhat important." Similarly, 46.8% of respondents indicated interest in seeing remote work opportunities when searching for jobs online.
Fast Application Processes: 19.2% of candidates said an application that takes longer than 10 minutes to complete is the top reason they would abandon the process. This was the second most popular reason for not applying, next to the location of the job (22.8%). Moreover, just 25.2% of job seekers said they "always" take the time to customize their resume for each job they apply for, despite this best practice's critical role in making it past applicant tracking systems (ATS).
Knowledge of the Hiring Company: Nearly 60% of job seekers "always" research the hiring company before applying for jobs, and 45.5% said they visit the websites of organizations they'd like to work for when searching for career opportunities.
Employer Communication: A whopping 91.0% of candidates said they expect employers to acknowledge that they've received their application, and 38.7% said they are less likely to interact with a brand in the future if they don't hear back from the employer after applying. Additionally, 92.6% of job seekers want to receive communications from employers via email over other channels, like phone calls (46.8%) or texts (34.5%).
Career Opportunities From Job Boards: 63.1% of respondents want to find out about new career opportunities by searching a job board. Further, a majority (77.0%) of respondents want to receive email alerts from job boards and recruitment platforms to stay informed of the latest openings.
"It's truly a unique time to be a job seeker, given the dramatic changes and challenges COVID-19 has brought to the employment industry," said Steve Flook, iHire's President and CEO. "One year into the pandemic, we sought to gain a better idea of what's important to candidates in their job searches. Based on our survey results, employers should consider offering remote work options (and calling them out in their job postings), shortening their application processes, communicating with every applicant, and strengthening their brands to attract today's top talent."
Get your copy of "What Candidates Want: Special Job Seeker Report": https://go.ihire.com/8482
Survey Methodology
A total of 5,835 U.S. job seekers responded to iHire's survey in March 2021. Respondents came from iHire's database of active and passive job seekers across 56 industries. All decimal points have been rounded to the nearest tenth. In some cases, respondents could select multiple answers, so percentages add up to a sum greater than 100%.
About iHire
iHire is a leading career-oriented platform that powers a family of 57 industry-focused talent networks, including WorkInSports, iHireVeterinary, iHireDental, iHireConstruction, and iHireChefs. For more than 20 years, iHire has combined advanced job matching technology with our expertise in the talent acquisition space to connect job seekers with employers in their desired sector. With an industry-specific, candidate-centric, and data-driven approach to recruitment, iHire helps candidates find meaningful work, and employers find unique, high-quality talent – faster, easier, and more effectively than a general job board. Visit http://www.iHire.com for more information.