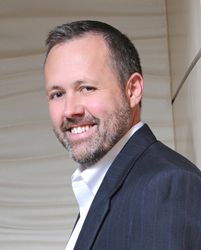 "[Guy Nelson] is a perfect fit for our team, and his experience and leadership will be instrumental in helping us further expand our procurement services."
DYER, Ind. (PRWEB) April 23, 2019
IIG is pleased to introduce Guy Nelson as the new VP of Procurement. This appointment comes as part of the firm's accelerated business growth and further expansion of their procurement services.
In his 30-plus years in the hospitality industry, Nelson has focused on furniture, fixtures and equipment (FF&E) for renovations and new builds. Nelson's experience includes working for both service providers and owner-developers.
Nelson began his career in 1986 at Harveys Casino Resorts in Lake Tahoe, Nevada, as the FF&E purchasing coordinator for all new hotel/casino projects, including the Hard Rock Hotel and Casino in Las Vegas. From 1997 to 2006, he managed projects and directed purchases for Sunterra Resorts in Orlando, Florida; Remington Hotel Corporation in Dallas, Texas; Jonathan Nehmer & Associates in Rockville, Maryland; and Premier Coastal Development in San Diego, California.
In 2006, he became the purchasing director for HFS/Concepts 4 in Long Beach, California, where he oversaw all procurement activities. From 2012 to 2016, he was the project manager for Wyndham Vacation Ownership in Seattle, Washington, which included improving teams and contract flow. In 2016, Nelson became the director of operations for Carver & Associates in Atlanta, Georgia, where he oversaw all procurement and was responsible for business development with existing clients and new prospects.
"We are ecstatic to have Guy join IIG," said Patti Tritschler, CEO of IIG. "He's a perfect fit for our team, and his experience and leadership will be instrumental in helping us further expand our procurement services."
"I have a passion for renovation projects," Nelson said. "IIG does beautiful historical work, which is my favorite type of project to work on. I also love hotel-casino projects, which is another type of project IIG has built a strong portfolio around."
As well as enjoying the type of projects IIG takes on, Nelson also appreciates the firm's values. "When I first met the IIG team, I was really impressed by their values," he said. "They not only promote creativity, but they also have integrity, accountability and respect. Those strong values are really important to me. If you don't have benchmarks to measure yourself or your team members, you aren't going to live up to your client's expectations."
For more information about IIG, visit iigdesign.com.
About Interior Image Group
Great design is more than a set of drawings. At IIG, we foster a studio culture that imagines, creates and delivers. Our goal is to tell our client's story through an artistic lens that ultimately brings to life a space you can experience with all senses. Services include interior design, FF&E Procurement and branding.