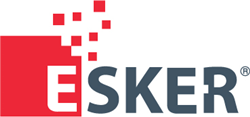 "What stood out most about Esker over its competitors was that it was the only solution that had a robust system adept in automating both the procure-to-pay side as well as the order-to-cash side of the business."
MIDDLETON, Wis. (PRWEB) April 07, 2020
Esker, a worldwide leader in AI-driven process automation solutions and pioneer in cloud computing, today announced that IIMAK, a global developer and manufacturer of printing and imaging consumables for automatic identification, packaging and graphics, chose Esker to automate its order management and accounts payable (AP) processes.
IIMAK sought an automation solution that could integrate with its Microsoft Dynamics AX ERP system, improve accuracy by eliminating manual data entry and increase staff productivity by having more time to spend on value-added activities. A key factor in in IIMAK's decision to work with Esker was due to Esker's unique ability to automate multiple business processes on one platform.
"What stood out most about Esker over its competitors was that it was the only solution that had a robust system adept in automating both the procure-to-pay side as well as the order-to-cash side of the business," said Tom Noonan, Vice President of Information Technology at IIMAK. "Many companies focus on AP automation and aren't well equipped to automate order management processes, but Esker is an expert in both."
Automating Order Management
IIMAK has already started the implementation process for Esker's AI-driven Order Management solution. Although Microsoft Dynamics AX is highly customized to meet the needs of IIMAK's key business functions, managing orders through this system is a highly manual process and IIMAK was relying on its customer service representative (CSR) teams to perform these cumbersome tasks.
Before Esker, IIMAK's CSR teams were spending half of their time manually entering data into their ERP system. Esker's AI-driven solution takes care of all those repetitive, low-value administrative activities, allowing CSR teams to focus on more strategic activities and customer relationships.
Automating Accounts Payable
Facing similar inefficiencies as a result of manual processing, IIMAK will soon begin the implementation process of Esker's Accounts Payable automation solution. Utilizing Esker's intelligent data capture and workflow capabilities to streamline all phases of AP invoice processing, IIMAK is looking forward to freeing up AP staff members' time and achieving an increase in efficiency.
"We're excited to kick-off the AP automation project here in the next month after seeing how smooth the implementation process has been for Esker's Order Management solution," said Noonan. "Esker prioritizes fully understanding our processes to ensure our needs are met and proper training is ensued, which has proven to be key benefit of working with them."
About IIMAK
Headquartered in Amherst, New York, IIMAK employs over 1,400 people worldwide with additional manufacturing, distribution and sales operations in Belgium, Brazil and Mexico. IIMAK's printing consumable solutions enable customization, identification, tracking and promotion of products. Variable information can be digitally printed using IIMAK technologies such as Inkjet Inks, Thermal Transfer Ribbons and Direct Thermal Films.
About Esker
Esker is a worldwide leader in AI-driven process automation software, helping financial and customer service departments digitally transform their procure-to-pay (P2P) and order-to-cash (O2C) cycles. Used by more than 6,000 companies worldwide, Esker's solutions incorporate artificial intelligence (AI) technology to drive increased productivity, enhanced visibility, reduced fraud risk, and improved collaboration with customers, suppliers and internally. Founded in 1985, Esker operates in North America, Latin America, Europe and Asia Pacific with global headquarters in Lyon, France, and U.S. headquarters in Madison, Wisconsin. For more information on Esker and its solutions, visit http://www.esker.com. Follow Esker on Twitter @EskerInc and join the conversation on the Esker blog at blog.esker.com.