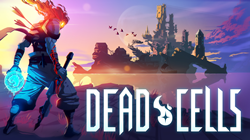 Dead Cells is an action-packed modern game with a retro feel to it through its side-scrolling gameplay; making it a perfect fit for the arcade
CHICAGO (PRWEB) October 27, 2020
iiRcade Inc., the ultimate connected arcade machine for gamers of all ages to own and play their favorite retro and modern arcade games at home, is pleased to announce that Dead Cells, officially licensed by Playdigious, is coming to iiRcade as a launch title. Dead Cells will be available on the iiRcade store at launch.
Winner and nominee for dozens of Game of the Year awards in 2018, Dead Cells is a critically-acclaimed Metroidvania action platformer set within an unpredictable castle packed with dark secrets, game changing items and hordes of deadly beasts.
The Metroidvania modern game allows game players to explore a sprawling, ever-changing castle, unlock new gear and gain access to unreachable areas in a fight to the death.
Originally released on Steam, Nintendo Switch, PS4 and Xbox One, this will be the first time Dead Cells is available on a home arcade system.
"Dead Cells is an action-packed modern game with a retro feel to it through its side-scrolling gameplay; making it a perfect fit for the arcade," said Jong Shin, founder & CEO of iiRcade. "Fans of Metroidvania games will love playing Dead Cells on iiRcade as an arcade game, which is an amazing experience."
Dead Cells will be added to iiRcade's growing library of 200+ licensed modern and retro games, both online and offline. Unlike other arcade devices, iiRcade is not limited to a few pre-loaded games, new games can be purchased and downloaded via the iiRcade store and software upgrades will also be made available to the platform.
iiRcade enables playing nostalgic retro arcade games as well as breath-taking modern games transformed into arcade games, and both online and offline multiplayer gaming, on a premium arcade cabinet. iiRcade allows for cinematic arcade gaming experiences via 19" High Definition display, 100W Dual Stereo Speakers, Premium Arcade Joysticks and the hardware and software that are optimized for gaming. iiRcade also has modern features built-in, such as WiFi 5, Bluetooth 4.2 and HDMI Out, that bring the arcade experiences to the modern world.
In addition to the original design, iiRcade is also available in two premium versions, Dragon's Lair Edition with Dragon's Lair cabinet graphics and Black Edition that enables users to design his/her own cabinet graphics and comes with officially licensed Double Dragon stickers that could be put onto the cabinet as a free gift. Both premium versions come with upgraded 128GB storage memory and original Sanwa joysticks.
Each iiRcade cabinet will come pre-loaded with 11 titles including: Dragon's Lair, Double Dragon, Gunbird, Beach Buggy Racing, BombSquad (online game), Snowboard Championship, Thunder Hoops, Power Balls, Maniac Square, Twin Brats and Fancy World.
For more information and to pre-order iiRcade, visit iiRcade.com.
About iiRcade
iiRcade is the ultimate connected arcade product for your home. Created by gamers for gamers, iiRcade integrates solutions that us gamers have always dreamed of. Immersive arcade gaming for home, legally licensed games with the real arcade experiences that we grew up with, not having to purchase more cabinets every time we want a new arcade game, small enough for homes yet big enough for comfortable game playing, never-before-seen experiences, affordable arcade gaming. iiRcade solves all these problems and provides the ultimate arcade solution that enables anyone to own the entire arcade at home.