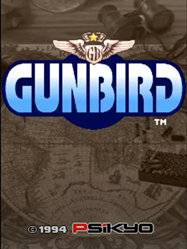 Psikyo is a legendary Japanese game developer and we're excited to be adding their games to our platform.
CHICAGO (PRWEB) May 28, 2020
iiRcade, Inc., the ultimate connected arcade machine that allows gamers of all ages to own and play their favorite retro and modern arcade games at home, is pleased to announce that classic games by Psikyo are coming exclusively to the home arcade platform.
The key games from Psikyo, which has mainly developed vertically scrolling shoot 'em up arcade games, include Gunbird, Strikers 1945, Zero Gunner, Dragon Blaze, and Battle K-road. Gunbird will come pre-loaded with each iiRcade unit while other titles will be available to purchase through the iiRcade online game store.
"Psikyo is a legendary Japanese game developer and we're excited to be adding their games to our platform," said Jong Shin, founder & CEO of iiRcade. "Their classic shoot 'em ups are a perfect addition to iiRcade and our home arcade experience."
An overview of examples of the Psikyo games coming to the iiRcade include:
Gunbird series (Vertically Scrolling Shoot 'em up Arcade Game, 1994): The game follows a story about the "magical mirror" that makes wishes come true. The story plays out in between levels and before boss fights, telling a tale of how the protagonists are trying to collect pieces of a magic mirror to make a wish.
Strikers 1945 series (Vertically Scrolling Shoot 'em up Arcade Game, 1995): World War II has ended but the mysterious organization called C.A.N.Y. has emerged to conquer the world using super weapons never seen before. Six best fighters, who together form a team called Strikers, have been secretly selected by United Military Headquarters for a mission to fight against this threat.
Zero Gunner series (Shoot 'em up Arcade Game, 1997): Taking place in the future (2016), a worldwide martial law is initiated when a widespread terrorist organization overthrew and took control of the world's military authorities. A group of ace helicopter pilots are secretly amassed in a special forces squadron called ZERO to travel around the world and destroy the occupied terrorist forces.
Dragon Blaze (Shoot 'em up Arcade Game, 2000): Four magic stones and the god of the moon and the sun brings unprecedented prosperity to the megaliths world. This peaceful period ends with the sudden arrival of Nebulus and the dark army. The god of the sun then entrusted four knights with armor of the gods and orders them to overthrow Nebulus.
Battle K-road (Fighting Arcade, 1994): The game features seven fighting styles and two playable characters per style, for a total of 14 playable fighters, that battle other opponents in the K-Road Tournament.
iiRcade, which is set to launch pre-orders on Kickstarter soon with early bird pricing starting at $299, will be the ultimate home arcade product providing gamers with their favorite officially licensed modern and retro games. Unlike other arcade devices, iiRcade is not limited to a few pre-loaded games, new games can be purchased and downloaded through the online game store and software upgrades will be made available to the platform.
For more information and to keep up with product announcements, visit iiRcade.com.
©Psikyo Produced by iiRcade, Inc.
About iiRcade
iiRcade is the ultimate connected arcade product for your home. Created by gamers for gamers, iiRcade integrates solutions that us gamers have always dreamed of. Immersive arcade gaming for home, legally licensed games with the real arcade experiences that we grew up with, not having to purchase more cabinets every time we want a new arcade game, small enough for homes yet big enough for comfortable game playing, never-before-seen experiences, affordable arcade gaming. iiRcade solves all these problems and provides the ultimate arcade solution that enables anyone to own the entire arcade at home.