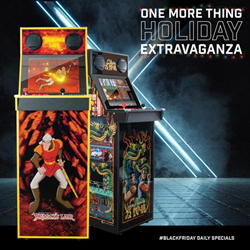 This is our biggest sale yet and we're excited for more iiRcade users to join our family this holiday season
CHICAGO (PRWEB) November 17, 2021
iiRcade Inc., a premium home arcade cabinet that allows gamers of all ages to play their favorite retro and modern games in arcade style at home, is pleased to announce its holiday sales pricing on all iiRcade cabinets, while quantities last.
Until December 25th, 2021, the holiday sale includes:

"This is our biggest sale yet and we're excited for more iiRcade users to join our family this holiday season," said Jong Shin, founder & CEO of iiRcade. "And for the first time ever, our existing customers will be able to purchase games on sale in the Game Store."
Game Store Sale
From November 19th- December 31st, 2021, a variety of games will be on sale in the iiRcade Game Store. Games will be 20%-60% off and titles will vary during the sale, with a different game developer each week having a sale.
iiRcade allows for cinematic arcade gaming experiences via 19" High-Definition display, 100W Dual Stereo Speakers, Premium Arcade Joysticks and hardware and software optimized for gaming. iiRcade also has the latest features built-in, such as WiFi 5, Bluetooth 4.2 and HDMI-Out, that bring arcade experiences to today's gamers. Every iiRcade also has a one year best-in-class warranty.
Each iiRcade comes with 11 pre-loaded games: Dragon's Lair, Double Dragon, Gunbird, Beach Buggy Racing, BombSquad (online multiplayer party game), Snowboard Championship, Diver Boy, Dragon Master, Maniac Square, Twin Brats and Fancy World.
All games are officially licensed and available at affordable prices, and new titles are continuously added to the growing iiRcade store library. The iiRcade Store can be accessed on phones or via browser on PC or Mac through the iiRcade store link.
A full list of games currently licensed and targeted for release on iiRcade Store can be found here.
For more information and to order iiRcade, visit iiRcade.com.
About iiRcade
iiRcade is a premium arcade gaming experience like no other. Play retro arcade games that you remember to the latest modern games in amazing arcade style. With cinematic gaming experiences powered by 19" high-density display, 100W of powerful stereo sound, premium 2-player arcade controllers and device optimized for the best arcade gaming experiences, iiRcade delivers arcade gaming that is so immersive, you will feel like you are inside the game.