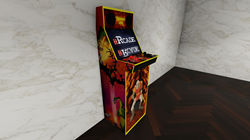 We have a lot of requests for a Dragon's Lair cabinet from our community and we're very pleased and excited to offer this premium edition iiRcade
CHICAGO (PRWEB) July 20, 2020
iiRcade Inc., the ultimate connected arcade machine that allows gamers of all ages to own and play their favorite retro and modern arcade games at home, is pleased to announce that a premium edition Dragon's Lair cabinet is now available for pre-order on Kickstarter.
The premium edition Dragon's Lair iiRcade will be available for a special price of $549 during Kickstarter and feature authentic Sanwa joysticks along with 128GB of memory and custom Dragon's Lair artwork on the full-sized cabinet.
"We have a lot of requests for a Dragon's Lair cabinet from our community and we're very pleased and excited to offer this premium edition iiRcade," said Jong Shin, founder & CEO of iiRcade.
The popular new home arcade system has raised over $400,000 and counting on Kickstarter, with 200 licensed modern and retro games, both online and offline, available in the iiRcade game store at launch.
Originally released in the summer of 1983 for arcades by Cinematronics, Dragon's Lair used laserdisc technology to offer superior graphics at the time using its unique animation-style graphics. Dragon's Lair has also been remade into television and comic books series.
Dragon's Lair will come pre-loaded on the premium edition unit along with nine other titles including: Double Dragon, Gunbird, Beach Buggy Racing, Snowboard Championship, Thunder Hoops, Power Balls, Maniac Square, Twin Brats and Fancy World.
The two sequels from the series, Dragon's Lair II: Time Warp and Space Ace will be available for purchase in the iiRcade app store.
The Dragon's Lair series includes:
Dragon's Lair will have users play the heroic Dirk the Daring, a valiant knight, on a quest to rescue the fair princess from the clutches of an evil dragon.
Dragon's Lair II: Time Warp takes place years after the original Dragon's Lair where Dirk has married Daphne. When Daphne is kidnapped by the evil wizard Mordroc to be forced into marriage, Dirk must once again save her.
Space Ace will have users take control of Ace, who is the defender of justice, truth, and planet Earth. Ace is being attacked by the evil Commander Borf and the fate of Earth is in his hands.
iiRcade is currently live on Kickstarter with special low pricing available until August 7. The ultimate home arcade machine provides gamers with their favorite officially licensed modern and retro games. Unlike other arcade devices, iiRcade is not limited to a few pre-loaded games, new games can be purchased and downloaded via the online game store and software upgrades will be made available to the platform.
For more information and to pre-order iiRcade, visit iiRcade's page on Kickstarter.
'Dragon's Lair', 'Space Ace', and 'Dragon's Lair II: Time Warp' are registered trademark of Bluth Group, Ltd. - ©2020. Character Designs ©1983 Don Bluth; All audio, visuals and concept - used under the exclusive license of Bluth Group, Ltd. ALL RIGHTS RESERVED.
About iiRcade
iiRcade is the ultimate connected arcade product for your home. Created by gamers for gamers, iiRcade integrates solutions that us gamers have always dreamed of. Immersive arcade gaming for home, legally licensed games with the real arcade experiences that we grew up with, not having to purchase more cabinets every time we want a new arcade game, small enough for homes yet big enough for comfortable game playing, never-before-seen experiences, affordable arcade gaming. iiRcade solves all these problems and provides the ultimate arcade solution that enables anyone to own the entire arcade at home.