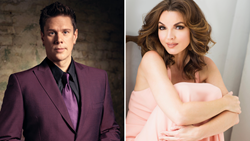 It is our hope that we can help support the many artists who have lost all work for the foreseeable future.
NEW YORK (PRWEB) April 28, 2020
David and Sarah Joy Miller want to ensure that their artistic colleagues (singers, actors, creatives), who are struggling from the cancellation of all work due to the COVID-19 outbreak, will find support during this crisis.
Il Divo tenor David Miller says, "I have been extremely blessed in so many ways throughout my career, but there were certainly much leaner times, especially in my early days singing opera. The pandemic has put all freelance artists/musicians out of work and many of our friends and colleagues have been stripped of their sources of income entirely."
Soprano Sarah Joy Miller says, "Artists from every musical genre are giving all they can to support others at this unprecedented time, and it is truly inspiring! David and I met while singing in Baz Luhrmann's Broadway production of La Bohéme, and this music is very dear to us. It is our hope that we can help support the many artists who have lost all work for the foreseeable future, and, that this will inspire other more fortunate friends and artists from around the world to join us and also donate generously to The Actors Fund."
The track "O soave fanciulla", from David's upcoming solo album REVOLUTION: Act I is the famous love duet from the opera La Bohéme, performed by David and Sarah Joy Miller with the Czech National Symphony Orchestra conducted by Maestro Steven Mercurio. The track will be given as a gift for a donation via a Donately page hosted exclusively at bohemisphere.com/theactorsfund. All donations will go directly to The Actors Fund, helping artists who are unable to work during the COVID-19 pandemic.
###
MEDIA CONTACT
Jonathan Eifert
pr@jonathaneifert.com
347.741.1913
HIGH RESOLUTION IMAGES (for press)
ABOUT
Exposed to opera from the age of 6, David Miller found his love for singing fairly early in life. His dedication to the art form was formidable, but he also had many opportunities that allowed him to fully pursue his passion without distraction. He was accepted to one of the top music conservatories in the world and invited to apprentice at one of the top level opera companies in America. He sang leading roles in opera houses all over the world, which eventually led him to be cast and star in Baz Luhrman's La Boheme on Broadway. That intense experience changed David's life forever. It showed him the potential to create a completely new degree of accessibility for opera through directing it like a film. This planted a seed of possibility in his consciousness, and he began to see opera as a genre in a whole new way.
Almost immediately after La Boheme he was selected by Simon Cowell for the multi-platinum selling quartet Il Divo. Currently Il Divo is heading into its 15th year after selling over 30 million albums and has a large fan base of more than 60 countries worldwide. They pioneered the genre called Classical Crossover and created a worldwide audience of what David has dubbed the "Classically Curious". Through this lengthy departure from opera, David has learned one very important thing, there is a worldwide hunger for more classic art forms.
Sarah Joy Miller, praised by The New York Times as "vivacious and fearless", is widely acknowledged as one of the industry's foremost emerging talents. Ms. Miller first began turning heads at her New York City Opera and BAM débuts to great critical acclaim singing the title role of Anna Nicole Smith in the Royal Opera House commissioned opera Anna Nicole by Mark-Anthony Turnage. Operatic highlights include her début at Michigan Opera Theater singing Gilda in Rigoletto, with subsequent returns as Leïla in Les pêcheurs de perles, a role début as Marguerite in Faust, and Roxanne in David DiChiera and Bernard Uzan's Cyrano; Violetta in La traviata with Palm Beach Opera; and Juliette in Roméo et Juliette at Opera Grand Rapids, Opera Carolina, Opera Tampa, and Lyric Opera Baltimore. Additionally, Ms. Miller joined the esteemed roster of The Metropolitan Opera for multiple productions including Adriana Lecouvreur in which she performed the role of Mlle. Jouvenot in her mainstage début.
Bohémisphere is a collection of artists attempting to remind mainstream consciousness of the epic emotional journeys of opera. The beautiful music and storytelling of opera has yet to reach its full potential in harnessing the medium of film. Our mission is to create a global community of current and future opera lovers by making high quality, affordable access points to ground-breaking entertainment products.
The Actors Fund is a national human services organization that fosters stability and resiliency, and provides a safety net for performing arts and entertainment professionals over their lifespan. Through offices in New York, Los Angeles and Chicago, The Fund serves everyone in film, theater, television, music, opera, radio and dance with programs including social services and emergency financial assistance, health care and insurance counseling, housing, and secondary employment and training services.