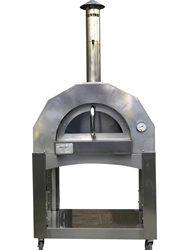 The Fiamma Rossa Series Comes with a Unique Dodecagon Double Dome Shape & Beveled Heat-resistant Tempered Glass Door
NEW YORK (PRWEB) April 16, 2019
Chris Salman, CEO of ilFornino New York, "announced a new line of their highest quality manufactured pizza ovens." The Fiamma Rossa series of ovens come in three sizes (Mini, Media and Grande),and sports a unique dodecagon (12 sided polygon) double dome shape. It is made from 16-gauge, #430 brushed stainless steel with straight flawless continuous welding. Each oven comes standard with large beveled heat-resistant tempered glass door to allow for an unobstructed panoramic view of the interior and also provides visual appeal.
Like most of the ilFornino line of pizza ovens, the Fiamma Rossa Series includes:The ilFornino® One Flat Cooking Surface™that guarantees even heat distribution and retention as well as a continuous surface for placing and moving items around the oven floor without hanging up on unexpected edges There are no groves to retain dust and embers allowing for a completely clean oven floor.
The Adjustable height stand–designed and engineered by the ilFornino team–gives the ability to achieve the optimal height for oven, that assist to watch and cook the food without arching back. Its variable height adjustment can allow oven to blend in as an add-on component to an existing alfresco kitchen.
The flagship ilFornino® Fiamma Rossa Grande Wood Fired Pizza Oven arrives ready to use, as it requires no initial break-in period.Included is a pre-assembled, adjustable height, stainless steel stand with casters for easy manoeuvrability and an additional shelf to store wood or other objects for convenient access. Easily remove the oven and place it on top of an outdoor kitchen mantel by using the 4 provided removable carry handles.
For more information on ilFornino Products, please visit: http://www.ilfornino.com/
Contact Person: Chris Salman
Phone: 877-302-6660 or 914-347-3178