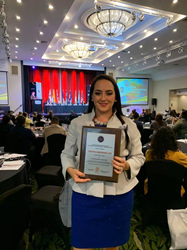 "The Congreso Leadership Award was, in short, incredibly amazing. This experience exceeded my expectations, opened new doors in Central and South America, but most importantly, it renewed my commitment to my core values and leading with a heart of service. I will treasure this moment forever."
NAPERVILLE, Ill. (PRWEB) November 11, 2019
Jacqueline Camacho-Ruiz, CEO of the Naperville-based JJR Marketing, 15-time author, international speaker and philanthropist, was recently honored for her contributions as a notable leader in business and in service by receiving awards in Costa Rica and New York.
In late October, Camacho-Ruiz traveled to San José, Costa Rica's capital, to deliver a presentation at first Congreso Internacional de Inteligencia Interpersonal y Liderazgo Ético (First International Congress of Interpersonal Intelligence and Ethical Leadership).
Presented by IBESI Business School in Managua, Nicaragua and Villanova University in Villanova, Pennsylvania, this inaugural global event invited speakers and panelists from Mexico, Nicaragua, Ecuador, El Salvador, Guatemala, The United States and other countries to discuss how the relationship of people's core values is presented in their personal representations to others.
Unbeknownst to Camacho-Ruiz, she became the first recipient of the Congress' Leadership Award.
"The award was, in short, incredibly amazing," she said of her surprise nomination. "This experience exceeded my expectations, opened new doors in Central and South America, but most importantly, it renewed my commitment to my core values and leading with a heart of service. I will treasure this moment forever."
Additionally, Camacho-Ruiz spent 26 hours with a leader mentor to receive a certification in interpersonal relationship and ethical leadership.
"There's a lot of scientific information behind the concept of interpersonal relationships," she said. "Experts who came to the event talked about how these relationships affect the neurons in our brains to help us evolve, grow and connect. Our brains are such powerful tools for mental connections. I believe it's also important to lead with ethical behavior and to form positive relationships with other people. The big difference between social and interpersonal intelligence is that it comes down to service. It's the idea of being a servant leader."
In early November, Camacho-Ruiz joined other extraordinary women speakers at the IV Cumbre Mundial de Mujeres (Fourth Annual Women's World Summit) in East Elmhurst, New York. The event drew many women who shared ideas, projects, success stories and discussions of problems, struggles and obstacles that limit women in the world.
Camacho-Ruiz received the prestigious LEAWOMAN 2019 Award. The award honors Latina recipients for their focus on leadership.
Elevating women around the globe is an important mission for Camacho-Ruiz and she has done this in specific ways. In addition to running her own company, she has also created the nonprofit The Fig Factor Foundation with the mission of helping young Latinas reach their goals. In her international Today's Inspired Latina book series, she has presented 152 stories of successful Latinas defying societal obstacles. Camacho-Ruiz is also one of the few Latina sports airplane pilots in the United States.
"My commitment to elevate women around the world is solidified with this recognition," she said. "I thank God for being so generous to me and for allowing the blessing of so much joy in my heart as He gave me another opportunity to live. I choose to live and to serve."
For more information about Jacqueline Camacho-Ruiz, visit http://jackiecamacho.com.
About Jacqueline Camacho-Ruiz:
Born in Mexico City, Jacqueline S. Ruiz moved to the United States at age 14 where she learned English and German shortly after. From a very early age Jackie devoured amazing literature. Authors like Dale Carnegie, Zig Ziglar, Napoleon Hill and other business icons influenced the launch of her award-winning marketing and public relations agency JJR Marketing in 2006. A true PR star, Jacqueline's iPhone tells the story: there resides hundreds of phone numbers for top national media personalities, radio/television producers and social media celebrities. She is a regular guest on TV and radio including CBS World News, CBS Chicago, WGN-TV, ABC7 News, WGN Radio 720.
Jacqueline speaks to hundreds of audiences nationwide and is described as having a "fire about marketing and about life that leaps off the stage." Jacqueline earned the Emerging Leader award by the Chicago Assoc. of Direct Marketing, the Entrepreneurial Excellence and Influential Women in Business awards by the Daily Herald Business Ledger and was a finalist for Latina Entrepreneur of the Year by the Chicago Latino Network, Highest Human Relations Award by Dale Carnegie, among others.
She has served in many local organization boards such as YWCA, Junior Achievement- Western Region, Community Contacts, The Fox Valley Entrepreneurship Center and currently is the president of The Fig Factor Foundation.
As a two-time cancer survivor, Jacqueline possesses wisdom about life well beyond her years. She lives in the Midwest with her husband and business partner, Juan Pablo, and her two children Leonardo and Giullianna. She is one of the few sports airplane Latina pilots in the US. For more information, visit http://jackiecamacho.com. ###