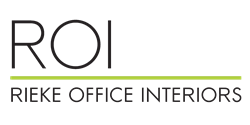 "We have completed many projects for our Chicago clients who have Dallas-Fort Worth-based offices. Last January, for example, we installed a million-dollar project in that area."
ELGIN, Ill. (PRWEB) January 05, 2021
Elgin-Illinois based Rieke Office Interiors (ROI) has constructed a sterling reputation designing functional office environments and manufacturing custom office furniture for the past 27 years.
Working in different cities around the country, it is finding its greatest success in the Dallas-Fort Worth area. Colleen Baader, ROI's senior vice president, explained that the company has done much work in that specific area for the past two years.
"We have completed many projects for our Chicago clients who have Dallas-Fort Worth based offices," said Baader also creative director of Vertical Interior Design, a full-service commercial interior design firm located inside of ROI. "Last January, for example, we installed a million-dollar project in that area."
What sets ROI apart from its competitors is how its design teams take a thoughtful approach to projects in a holistic sense. Additionally, ROI offers a lifetime guarantee on its products while creating lifelong partnerships. The company expanded its creative wings with Vertical Interior Design, where the goal is to design office interiors that are healthy work environments.
"Our company is not about plopping furniture in offices; it's about diving into what the clients' needs are," she said. "We also want to see how they operate during the COVID-19 pandemic. The mix of working environments might be different, as some employees work from home and some stay at the office. For example, a company might have a brand-new need for a conference room with technological devices that allow for virtual meetings."
Kevin Hudson, vice president of shared services for EmployBridge, a staffing company in Farmers Branch, Texas, provides an example of a Dallas-area business having a successful working relationship with ROI. He was very pleased with ROI's professionalism during a very important project.
"The ROI team was an absolute pleasure to work with to build out our newest and largest service center," Hudson said. "Their tremendous experience and expertise were incredibly beneficial from design through delivery. During the process, ROI listened to our needs, wants and wish list items and helped us achieve our vision within our budget… our valued colleagues love their new space!"
About Rieke Office Interiors
Rieke Office Interiors (ROI) has an impressive, state-of-the-art, 150,000 square foot, office furniture manufacturing facility in Elgin, Illinois. As a certified WBE business in its 27th year, ROI provides innovative products and services that are fully customizable, a unique capability that isn't found anywhere else in the office interior industry. This flexibility allows ROI to create a big impact for any budget, streamlining the project process to make each vision come to life. For more information, visit Rieke.com. ###