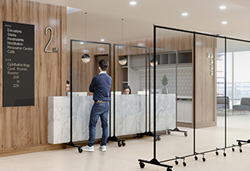 LAKE ZURICH, Ill. (PRWEB) April 23, 2020
During the past few months, the Coronavirus pandemic has created a need for adaptive hospitals and medical facilities. Since they can harbor countless germs while treating such an infectious disease, most hospitals have been looking for ways to minimize contagion. These facilities need as many tools as possible to maintain social distancing when their patients aren't receiving direct care. The official CDC COVID-19 Guidelines even recommend installing a physical barrier to limit close contact between patients and staff.
In response to the social distancing need, Screenflex Room Dividers has been providing Plexiglass Medical Dividers to healthcare facilities across the country. The Screenflex Clear Room Dividers are freestanding and portable devices that can be used in many areas of a hospital. The transparent surface creates a protective shield from germs and viruses, while still allowing the medical staff and patient to communicate freely.
These clear acrylic partitions come in two lengths; a 3'4" single panel unit or a 10'0" three-panel unit. The dividers rest on self-leveling casters, allowing them to travel easily over any surface with exceptional stability. The casters also lock with the press of a pedal holding the divider in place. Depending on quantity, orders ship within 3-5 business days ARO and arrive fully assembled, ready to use.
By supplying these Clear Dividers for hospital check-in areas and other public-serving spaces, Screenflex is contributing to the cause of containing the virus in accordance with CDC guidelines.
Screenflex is the #1 provider of high-quality portable room dividers and continues to be a trusted supplier among facility managers. To find out more information, please visit http://www.screenflex.com or call 855-960-6020.