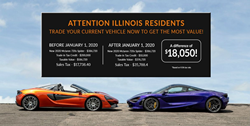 CHICAGO (PRWEB) December 01, 2019
Trading in a vehicle is a great way to reduce the cost of an exotic McLaren supercar at McLaren Chicago. However, with the passage of the new Illinois Senate Bill 690 tax law*, the tax credit that Illinois residents are allowed for trade-in vehicles will be significantly lowered. As of now, Illinois doesn't collect any sales tax on trade-in vehicles. However, with the signing of the new tax law by Governor J.B. Pritzker, this all changes. Starting on January 1, 2020, an Illinois resident that trades in a car that has a value of more than $10,000 will be charged for sales and local taxes for any amount that's above the $10,000 tax credit.
There is a considerable financial advantage to trading in a vehicle before 2020. The price of a new 2020 McLaren 720S Spider is $386,720. Before January 1, 2020, an Illinois resident could apply a trade-in tax credit of $200,000, resulting in a taxable value of $186,720 and a sales tax of $17,738.40. However, starting on January 1, 2020, the trade-in tax credit would only be $10,000, resulting in a taxable value of $376,720 and a sales tax of $35,788.40. This is a difference of $18,050.**
When trading in a vehicle at McLaren Chicago, automotive shoppers have an enticing selection of McLaren models to choose from at the dealership. Whether it's a Sports Series model like the 570S, 570S Spider, 600LT or 600LT Spider, a Super Series model like the 720S or 720S Spider, or the top-of-the-line McLaren Senna, McLaren owners can count on a phenomenal driving experience. Also, McLaren Chicago offers pre-owned McLaren models and pre-owned models of other luxury brands, such as Ferrari, Lamborghini, Mercedes-Benz, BMW, Audi and Porsche.
Prior to visiting McLaren Chicago, prospective McLaren buyers can determine the trade-in value of their current vehicle by filling out a form on the dealership's website and enter pertinent details like year, make, model, trim, mileage and VIN. McLaren Chicago will evaluate the trade-in vehicle and then contact customers with a calculation of its value.
McLaren Chicago is located at 645 West Randolph Street in Chicago. The dealership can be contacted via telephone at (312) 635-6482.
*Illinois Senate Bill 690, Passed on June 28, 2019; Sources: Illinoispolicy.org (https://www.illinoispolicy.org/illinois-imposing-car-trade-in-tax-on-jan-1-dealers-call-it-double-taxation/), Illinois General Assembly (http://ilga.gov/legislation/101/SB/10100SB0690ham002.htm)
**Based on a 9.5% tax rate.