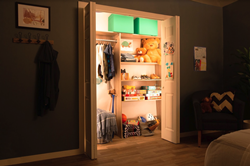 Luminook beautifully, and effortlessly, illuminates any small space in an almost magical way.
LAWRENCE, Kan. (PRWEB) February 17, 2020
Bring big light to small spaces with Luminook, the sleek lighting solution that transitioned to Indiegogo's InDemand after a successful 40-day Kickstarter campaign. With more than 900 backers pledging more than $141,000, Luminook reimagines small-space lighting with its hands-free, color-temperature adjustable, battery operated design.
The team at Luminook is focused on beautiful design and excellent user experience. Luminook alleviates the frustrations of poorly-functioning motion sensors, switches and buttons with their Beyond Motion Detection™ technology. Similar to the way a refrigerator light turns on when the door is opened, Luminook is triggered based on the position of the door.
Luminook works on all single and double-door openings up to 72 inches wide. Traditional, bi-fold, sliding and french doors are all supported. What if there's no door at all? No problem. Luminook's advanced sensors can also be activated by a simple hand gesture.
"It's hard to stay organized and use space properly if it's not well lit," said Chris Stubbs, creator of Luminook. "Luminook beautifully, and effortlessly, illuminates any small space in an almost magical way."
Luminook is easily installed. No tools or do-it-yourself skills are required. Simply use the provided 3M adhesive to install the control module inside the closet. Clips for the LED lights are also secured with adhesive. The entire process should take less than 10 minutes.
A removable, rechargable, lithium-ion battery pack powers Luminook. On average, Luminook can last over a month on a single charge. For those who wish to charge even less frequently , a high capacity battery pack is available. Luminook can even be powered by an electrical outlet or an existing light socket, using Luminook's Socket Adapter Kit.
For those wanting a premium experience, there's Luminook+. High-CRI LED lights are used in Luminook+, creating the most vibrant and accurate color reproduction possible. This makes colors and textures pop, ensuring that clothes in a closet look the same as they will in daylight. Luminook+ is the next best thing to natural sunlight in any small space.
Illuminate every nook with Luminook.
Luminook is available for continued pre-order on Indiegogo's InDemand starting at $65 by visiting pr.go2.fund/luminook.
About Luminook Lighting
Luminook Lighting was born out of the notion that home lighting should be simple, elegant and effective. With light in small spaces, every part of the home becomes usable. Illuminate nooks and bring light to the darkest spaces with Luminook. For more information, visit http://www.luminook.com.