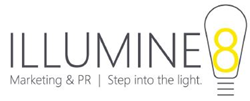 "We're so proud of our team and clients," Christina May, CMO and founder of Illumine8, said. "Thank you to the Association of Marketing and Communication Professionals for these two awards."
FREDERICK, Md. (PRWEB) November 30, 2018
Illumine8 Marketing & PR of Frederick, Maryland, is a 2018 Platinum and Gold Winner of the dotCOMM Awards. Each award was for the Content Marketing category under the eBooks subcategory.
The Platinum Award was for a Guide To Quality Assurance Best Practices for sheet metal fabrication shop, Kaempf & Harris. The Gold Award was for an eBook called Leveraging Agency Partners To Maximize Marketing ROI: A Playbook for Illumine8.
"We're so proud of our team and clients," Christina May, CMO and founder of Illumine8, said. "Thank you to the Association of Marketing and Communication Professionals for these two awards."
According to the dotCOMM Awards, more than 2,000 entries came from Australia, Canada, England, Germany, Portugal, Russia, the United States, and other countries.
Entries were submitted for more than 240 categories. These entries celebrate "interactivity, content, design, social media, video, apps, blog, and influencers" as part of "important components to digital public relations, marketing, and advertising campaigns."
Entrants included "corporate communication departments, public relations firms, digital shops, advertising agencies, and freelancers". Other entrants included solo "[graphic] designers, developers, content producers, digital artists, video professionals, account supervisors, creative directors, and corporate executives.
Additional information about the dotCOMM Awards can be found at http://www.dotcommawards.com or on our blog .
About Illumine8 Marketing & PR
Illumine8 is a marketing consultancy that combines business strategy, creativity, and customer-focused sales practices to deliver sustainable and measurable results to help our clients meet and exceed their growth goals. More information can be found at http://www.illumine8.com .