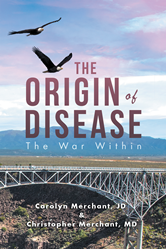 ALBUQUERQUE. (PRWEB) February 11, 2019
Many patients can relate to a doctor visit where they leave with a prescription, but no real solution to the problem at hand. "The Origin of Disease: The War Within" by Carolyn Merchant, JD and Christopher Merchant, MD provides a comprehensive view on the causes of chronic disease. It offers a new vision for medical care where doctors abandon symptom diagnosis in exchange for an in-depth look at all parts of the whole to diagnose root causes.
Christopher Merchant, MD, was born to a long line of social revolutionaries. He was destined to question, analyze, and rebel against the status quo. As a medical student, and throughout his medical career, he fought for the importance of re-thinking the diagnosis and treatment of chronic disease.
Carolyn Merchant, JD, an AV-5 rated attorney, passionately represented hundreds of patients who were injured by refractive eye surgery or involved with ophthalmology or optometry malpractice. As a lawyer she learned the value of taking a step back to view a case from the whole perspective rather than the surface issue. Christopher's curiosity and focus on chronic disease paired well with Carolyn's passion for justice, making them an ideal team to write this book.
Together, Christopher and Carolyn draw knowledge across medical specialties and cases, including gastrointestinal, cardiovascular and lung, neurologic, cancer, autoimmune, reproductive, eye disease, mental health, skin and aging. They provide examples of instances where diagnosing the root cause benefitted the patient, or where diagnosing more than the symptoms could have created a better patient outcome. They give insight that can direct research to the causes and cures of chronic disease.
"The Origin of Disease: The War Within"
By Carolyn Merchant, JD and Christopher Merchant, MD
ISBN: 9781546259817 (softcover); 9781546259800 (hardcover); 9781546259794 (electronic)
Available at the AuthorHouse Online Bookstore, Amazon and Barnes & Noble
About the authors
Christopher Merchant has been a family practice physician, for forty-two years. Carolyn Merchant has been an attorney for thirty-five years. They thought, discussed, observed, and researched their ideas on the origin of disease, for four decades. They offer experiences, observational science, research, and conclusions about the causes of chronic disease, which support a principle of the whole in chronic diseases. They challenge the medical system to think differently and to do better.
The Merchants' take a risk by writing this book. Understanding who they are makes clear they had no choice but to speak, to help others. Their personal history and evolution of thinking explains why it is their destiny to speak now!
###