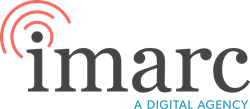 AMESBURY, Mass. (PRWEB) September 25, 2020
In addition, Nick Grant will be taking on an advisory role as Chairman Emeritus. These leadership appointments are effective immediately.
"We owe Nick many thanks for his contributions to Imarc's success," said Imarc Partner Dave Tufts. "He has been dedicated to the company for the past 21 years, including the last six years as our CEO. Under his leadership, we experienced a period of phenomenal growth – more than doubling in size and winning countless awards. Nick engineered the seamless build-out and transition to our beautiful offices in Amesbury, MA."
Imarc Partner Patrick McPhail said, "We're confident that our customers will be as thrilled as we are about welcoming Nils Menten back as Imarc's CEO."
"We're looking forward to the energy and passion Nils brings to any team he's a part of," said Imarc Partner Katie Desmond. "We're all excited to be reunited after six years apart, and we truly feel that the best is yet to come."
In the late 1990s, Nils Menten grew Imarc from a wild idea into one of the most highly decorated digital agencies in New England. He will be responsible for leading the company to future success. "This transition will be nearly undetectable to our customers and business partners," said Menten. "No other management changes are planned, and the company is in excellent shape financially. It will be 'business as usual' moving forward."
About Imarc
Imarc is a premier full-service digital agency with a strong focus on web, mobile, and custom application solutions. We create smart solutions for forward-thinking brands across several different industries. With over 50 experienced engineers, UX engineers, designers, writers, strategists, and marketing experts, Imarc has been helping more than 400 clients create the incredible. We put our clients first and focus on building deep relationships with them. We are proud to say that some of our clients have been with us since the very beginning. Imarc has also made the Inc 5000 list six times, was named by Boston Business Journal as one of the top five firms in Massachusetts, and has won over 175+ industry awards.
Contact Information
Contact Person: Ashley Romagnoli, Digital Marketing Manager
Company: Imarc, A Digital Agency
Company URL: https://www.imarc.com/
Address: 21 Water St. First Floor, Amesbury, MA 01913
Phone: (978) 462-8848
Email: Ashley@imarc.com