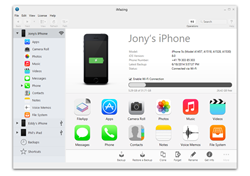 Manage Your iPhone Simply, Get iMazing.
Geneva, Switzerland (PRWEB) October 02, 2014
Easy Upgrade to the New iPhone 6
iMazing sports a clone feature that simplifies the upgrade process to a new iPhone. In a couple of clicks all data, apps, contents and settings are transferred to any iOS device, including the new iPhone 6. As all data is only being transferred locally, making it a secure and fast method, there is no lengthy iCloud data sync wait.
Simple 2-Way iPhone Music Transfer
iMazing adds iOS music transfer both ways, and this is a game changer: now users can simply add music tracks to any iPhone by dragging the files to iMazing. iMazing also allows music tracks to copy from any iPod to any computer. iMazing allows to manage music the way it should be: simply and fast. No sync, no previous pairing, no Apple ID, no iCloud, and no download are involved.
No More Data Loss
Not only does iMazing provide a simple way to create, archive and restore iOS devices backups, it also allows to recover data simply. In case of lost, theft or malfunction, iMazing's browser displays the content of the latest device's backups, no matter if the device is present or not. This allowing to access and recover the data immediately – before having replaced the device.
Availability and Contacts
iMazing is a desktop iPhone, iPad and iPod touch manager
Available for Windows PC and Mac OS X
Website: http://imazing.com
Download, release notes and tech specs: http://imazing.com/download
Pricing: Single license $29.99; upgrade from any DiskAid version $8 (special offer)
Upgrade path for DiskAid license owners: http://imazing.com/diskaid
Screenshots: http://imazing.com/about/media
Contact for media inquiries: Victor Broido vbroido(at)imazing(dot)com