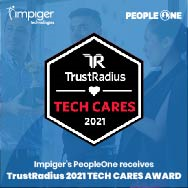 "Our goal is to build solutions aimed at making life easier – PeopleOne is the solution that ticks all the boxes. This award is testimony to the core values behind the PeopleOne solution."
DALLAS (PRWEB) November 22, 2021
Impiger Technologies'  PeopleOne digital workplace engagement solution has been awarded the 2021 Tech Cares Award by TrustRadius, based on TrustRadius community nominations and user reviews. 
TrustRadius has recognized Impiger's efforts for going above and beyond to support its communities, and stepping up to take an active role in the recovery of communities around the world who were struggling in the aftermath of the 2020 Pandemic.
The final 100 recipients of the award were chosen after considering companies' volunteering, diversity, equity, and inclusion programs, charitable donations, fundraising, and workplace culture, including model support for in-office and remote employees.
Jude Ramayya, the CEO, Impiger Technologies, states, "Our goal is to build solutions aimed at making life easier – PeopleOne is the solution that ticks all the boxes. This award is testimony to the core values behind the PeopleOne solution."
The PeopleOne platform is the perfect solution for organizations to deploy for a highly collaborative and efficient workplace. The UI, both for web and mobile apps, is simple and virtually self-explanatory. In addition, with its creative, engaging, and productive features, PeopleOne has elevated employee engagement to new heights where an employee can work at optimal efficiency even in a remote work environment.
About Impiger Technologies
Impiger Technologies is a leading Digital Transformation Solution Provider based out of Dallas, TX, digitally transforming businesses with Digital Solutions in Mobile, Cloud, Web, IoT, AR, RPA, and AI Technologies. We have been in the tech services industry for more than 17 years and have provided services for more than 400 clients across multiple industries, including but not limited to Manufacturing, Logistics, Retail, Healthcare, and Finance. We've brought more than 1000 creative, cutting-edge digital solutions to life for our clients across a range of technologies - iOS, Android, React Native, Flutter, AWS, Azure, SharePoint, Drupal, WordPress, and so on. We're here to help your business achieve today's goals and tomorrow's vision.
About TrustRadius
TrustRadius is a reputable business technology review site that doubles as an online community for member companies to provide in-depth reviews of various business softwares and technologies that they have used. Since 2016, the TrustRadius Awards have been the industry standard for unbiased recognition of B2B technology products.