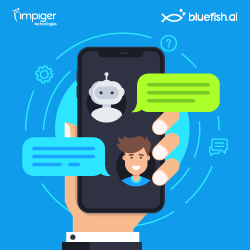 We are here2help our customers run their businesses without worrying about the lockdown or upcoming issues due to the crisis. We can help companies revitalize their services by engaging with their customers via chatbots that add the human touch
DALLAS (PRWEB) March 30, 2020
With the worldwide lockdown, global work culture is undergoing a shift where companies are embracing remote working and digital mediums to stay connected. However, this results in businesses opting for a leaner workforce which equates to fewer people attending to customer queries, creating an adverse impact on the overall business.
Dallas based Impiger Technologies has come up with a resolution to help companies support their operations in these times of crisis. Its AI Chatbot platform, Bluefish is here2help and is bringing in human intervention in the form of chatbots for the affected organizations free of charge for the first 3 months. This negates the need for an upfront payment and eases off the financial pressure off the organizations.
By offering its chatbot solution for free for the first three months, Impiger will facilitate the SMB community to stay connected with customized chatbots for their businesses even during the lockdown period. These chatbots are equipped with interactive features that will resonate with their organizational message and complement the human tasks, refining them further.
With Bluefish's assistance, users will now be able to:

Address customer queries through live chatbots
Maintain visibility despite the less or no workforce
Retain customers and give 360-degree customer experience
Attract new customers
Jude Ramayya, CEO, Impiger Technologies states, "We are here2help our customers run their businesses without worrying about the lockdown or upcoming issues due to the crisis. We can help companies revitalize their services by engaging with their customers via chatbots that add the human touch".
About Impiger Technologies
Impiger Technologies is a Dallas based digital transformation organization helping customers achieve their business orientations and goals by leveraging technology. The organization offers expertise in AI, Mobile App Development, Web Development, Cloud Solutions, and much more!