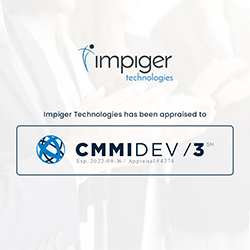 DALLAS (PRWEB) September 04, 2019
Impiger Technologies Inc has achieved the coveted status of CMMI Maturity Level 3 rating which seals its position as one of the most innovative and customer-oriented organization investing in digital transformation and growth. The rating, provided by KPMG, India is an affirmation to Impiger's ability to create services and solutions that are key to help businesses stay in the industrial trend.
CMMI is the best practices model for execution improvement and a gathering of best of the industrial guidelines assessing the improvement in critical capacities of organizations. It is a parameter that breaks down Impiger's ability to flawlessly execute IT Software advancement and growth extend crosswise over Web and Mobile applications created at the Impiger Delivery Centers. In a nutshell, the rating recognizes Impiger Technologies' emphasis on procedure and item quality.
How Will This Maturity Rating of Impiger Benefit Clients?

The solutions will be focused on defined processes to develop the quality product
The practices involved in product development will be a result of the customer and industrial demand
Deployment of the latest technology
Strict market adherence
High return on investment
On-time delivery efficacy
Upon achieving this milestone, Ramakrishnamoorthy V., Founder and COO, Impiger Technologies exudes, "The CMMI Maturity level 3 rating is a remarkable breakthrough in our journey to become a leading IT partner to our customers. This rating is a justification for our efforts to establish an underpinning of well-defined processes that drive our customer's Digital Transformations journey".
This evaluation at Maturity Level 3 demonstrates that Impiger is performing at a 'Defined' level. It is ceaselessly improving its processes dependent on a quantitative comprehension of its business goals and execution needs and advancing to adjust to changing partner and client needs.
The Maturity Level rating (level 3) affirms Impiger Technologies' capacity to convey unique programming items and administrations on-schedule and inside spending plan while guaranteeing quantitative Return on Investments for the client.
About Impiger Technologies, Inc.
Impiger Technologies, Inc. is a world-class, enterprise software product engineering company specializing in Digital Transformation Solutions utilizing Mobile, Cloud, and Web Technologies. We help enterprises improve business efficiency, productivity, and grow revenue. We offer a comprehensive set of cost-effective services from prototype to production and everything in-between.