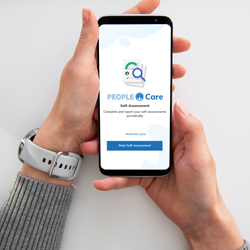 "There are new government regulations which call for a change in conventional workplace routines. People1 Care takes a custom approach to help organizations adhere to these guidelines as they get back to business while reducing employee health risks." - Jude Ramayya, CEO Impiger Technologies
DALLAS (PRWEB) May 29, 2020
Impiger Technologies, a Texas based software solutions organization, recently launched a unique return-to-work mobile and web based solution People1 Care to help organizations safely return their employees to the workplace.
People1 Care helps companies transition into the 'new normal' through daily wellness screenings, social distancing support, and contact tracing at work. With this data, companies can ensure the safety and well-being of their employees in accordance with CDC recommended organizational guidelines.
People1 Care's daily wellness screening includes temperature scans and health questionnaires for employees and guests. The app provides alerts through proximity detection to help employees comply with recommended social distancing guidelines. This enables employees to be mindful about their own health and others' safety in the workplace.
In the event an employee tests positive for COVID-19, digital contact tracing records can be reviewed to check their interactions with coworkers. This can help companies reduce the chances of an outbreak in the workplace with timely precautionary measures.
Listed below are some of the key features of People1 Care:

Self-Assessment option to minimize risk
Compliance checks and alerts to help employees adhere to company regulations
Event Reporting allows senior management to take quick actions in critical situations
Employee Notifications of new policies and guidelines related to workplace safety
Reports and dashboards for companies to monitor employee screening and other safety metrics
Mobile first technology and user friendly application that is highly secure
Jude Ramayya, CEO of Impiger Technologies says, "There are new government regulations which call for a change in conventional workplace routines. People1 Care takes a custom approach to help organizations adhere to these guidelines as they get back to business while reducing employee health risks."
About Impiger Technologies
Impiger Technologies, Inc. is a 15-year old Dallas based technology organization offering solutions in the field of Mobile, Cloud, Web, IoT, AR, RPA and AI Technologies, catering to industries like Manufacturing, Logistics, Retail, Healthcare, Finance, and Services. With over 450+ professionals spread across the globe, Impiger has assisted enterprises across all scales and domains. Its Digital Workplace platform People1 helps organizations establish a streamlined mode of communication and collaboration, improving overall productivity.