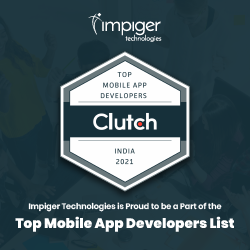 "We are elated that we have been recognized once more by Clutch, this time as one of the top performing app development companies in India. We celebrate this award and will continue to offer the best of our services always." - Ramakrishnamoorthy V., Co-Founder and COO
CHENNAI, India (PRWEB) March 25, 2021
Impiger Technologies is pleased to announce that it has been named among the 100 top-performing app development companies from India for 2021 by Clutch. Clutch is the leading B2B ratings and reviews platform for IT, Marketing, and Business Service Providers. Each month, over half a million buyers and sellers of services, use the Clutch platform. Inc. Magazine has recognized Clutch as one amongst the 5000 fastest-growing companies in the U.S.
Impiger has been analyzed based on various parameters like its online presence, former clients, and reviews on Clutch. Impiger has been ranked 41 based on all these parameters, along with and considering its industry expertise and ability to deliver.
Clutch CX Analyst, Fizza Mudaser states, "We are thrilled to recognize these Leaders for the dedication and perseverance in these unprecedented times. These app development companies are being celebrated for the value they provide for their clients."
Commenting on the win, Ramakrishnamoorthy V., Co-Founder and COO, Impiger Technologies, stated, "We are elated that we have been recognized once more by Clutch, this time as one of the top performing app development companies in India. We celebrate this award and will continue to be a customer-oriented organization, striving to offer the best of our services always."
We thank the Clutch group for their sincere and honest efforts in recognizing Impiger Technologies and its services. We also thank all our partners and clients, for their contributions towards this success. Also, this victory would not have been possible without the constant hard work and input from the talent at Impiger. We wish to thank all the stakeholders and every last individual who has contributed to this accolade. This award at the beginning of 2021 is definitely a major morale boost for the rest of the year.
About Impiger Technologies
Impiger Technologies is a leading Digital Transformation Solution Provider that empowers businesses to use various Digital Solutions by implementing Mobile, Cloud, Web, IoT, AR, RPA and AI Technologies. We have been in tech services for 16 years and provide services for multiple industries, specializing in Manufacturing, Logistics, Retail, Healthcare, Finance, and Services. For more than a decade, Impiger has delivered more than 300+ mobile applications: iOS, Android, Windows Mobile, HTML5, etc. and have developed over 200+ cloud and web applications across multiple technologies, including Amazon Web Services, SharePoint, Microsoft Azure, ASP.NET, etc. With over 450 professionals spread across the globe, we provide expertise and guidance to small start-ups with big ideas all the way up to large Fortune 500 corporations searching for specific skills and/or resources.