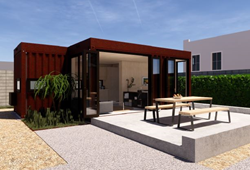 MARTINSBURG, W.V. and LOS ANGELES (PRWEB) August 27, 2020
Impresa Modular and Crate Modular are pleased to announce they have entered into a joint marketing agreement, combining Impresa's industry leading marketing and delivery services with Crate's world class container design and construction. This agreement is the first of its kind between two organizations in the off-site modular construction industry. Impresa Modular has an unparalleled internet marketing and sales reach for home buyers discovering offsite modular construction. This partnership will expand Impresa Modular's product offering to now include container-based accessory dwelling units (ADU's) thereby leveraging its database of prospective home buyers and expanding its offering for new home buyers.
Impresa Modular is well-known in the modular home industry for delivering custom homes. "We are very excited to work with Crate Modular," said Ken Semler, President and CEO, Impresa Modular. "Teaming up with Crate Modular to add their container-based ADU line to our plan offering instantly expands our market reach. Modular construction with recycled shipping containers not only means delivering ADU's quickly, but also provides us with the ability to expand their use into custom homes and affordable housing projects."
"We are thrilled to be in partnership with Impresa in this exciting endeavor, we deeply respect Impresa's sales engine, their integrity, and their impressive track record. They are the perfect partner to deploy our California-made container modular ADUs and give homeowners easy and sustainable options for more space.", said Amanda Gattenby, Vice President Development, Crate Modular. Crate Modular is known for creatively using one-way shipping containers for multi-family housing and school buildings.
Modern modular construction is emerging as the preferred solution for home buyers. Using recycled shipping containers as the modular building block provides a green way to build ADU's and custom homes. ADU's and homes built using shipping containers offers healthy, safe, and energy efficient homes at a great value. Flexible design options and the ability to construct a home quickly and cost-effectively are hallmarks of today's modular home.
About Impresa Modular
Impresa Modular is the only nationwide modular home builder in the country. Using its extensive network of more than 20 factories, Impresa Modular is able to design and build custom modular homes which it delivers across most of the U.S. For additional information contact John Magnan at 877-419-2439, john.magnan@impresamodular.com or visit our website: http://www.ImpresaModular.com
About Crate Modular
Crate Modular is California's first and only proven manufacturer of multifamily housing and school buildings making buildings out of recycled shipping containers. For additional information contact Joan Coco Marcial at (310) 299-7680, joan@cratemodular.com or visit our website: https://cratemodular.com/