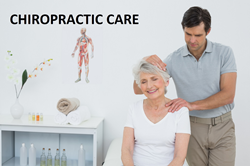 The central nervous system is the body's information freeway. When we are able to have optimal spinal alignment, we are able to have optimal range-of-motion and flexibility.
CARY, N.C. (PRWEB) November 19, 2019
There are just some of the reasons that people have been turning to chiropractic services to get and stay healthy and pain-free. Chiropractic is a healthcare field that focuses primarily on disorders of the musculoskeletal system and the nervous system. They also address the effects of these conditions on the body's general health.
At Kosterman Chiropractic in Cary, NC, the treatments offered focus on neuromusculoskeletal complaints, which include back pain, neck pain, pain in the joints of the arms or legs, and headaches.
A Doctor of Chiropractic, more commonly referred to as chiropractors or chiropractic physicians, practice a hands-on, drug-free, and non-invasive approach to health care. They exam patients to figure out a diagnosis and treatment plan.
While many people go to the chiropractor when they are feeling pain or after they've been inflicted with an injury, many people visit their chiropractor regularly for overall good health. Millions of patients are satisfied with their treatments and are able to function to their fullest ability, which means that chiropractors must be doing something right.
What Chiropractors Know
Chiropractors like Dr. Kosterman have extensive diagnostic skills and are best known for their knowledge of spinal manipulation. A lot of people don't know that chiropractors can also recommend therapeutic and rehabilitative exercises, as well as provide nutritional, dietary, and lifestyle counseling.
Chiropractors know that a healthy spine will allow your body to function to its highest potential. The spine provides the underlying structure for all of our muscles, bones, and joints. When the body has optimal spinal alignment, it is able to have optimal range-of-motion and flexibility.
It also helps bodies avoid injuries, ease pain, and diminish illness. Even more importantly, a healthy spine means it is strong enough to protect and surround our nervous systems.
The nerves that branch off from the spinal cord go through the spinal vertebrae, which is where it communicates messages from the brain to cells, tissues, and organs. When the spine is misaligned or damaged, it interferes with the nervous system's ability to communicate with the rest of the body. In fact, it can result in immediate symptoms when the spine is damaged.
Chiropractors are knowledgeable about the nervous system, which is the one system in the body that directly affects every other system in the body. Nerves conduct sensory information from every part of the body, which is then delivered to the brain.
The brain then assesses this information to determine what the body needs in order to maintain healthy a state. So, it is important that this system is healthy because of its distinct connection to the health of the rest of the body.
Kosterman Chiropractic knows that everyone lives completely different lives, which means their bodies function differently. They also understand that different types of pain require different types of adjustments.
Kosterman chiropractors are able to locate misalignment in the spine, which can interfere with proper nervous system function. More specifically, these chiropractors have studied the effects of vertebral subluxations, which another name for "conditions of the spine where alignment and/or movement patterns of the vertebrae are irregular."
When these imbalances occur, it can cause irritation and inflammation. This type of interference may cause information that is transmitted along nerves and spinal cord. Chiropractors are the only health care professionals specially trained to pinpoint and fix spinal subluxations.
Back pain and neck pain are the top complaints when patients seek out chiropractic care. Through manual spinal manipulation, this holistic therapy focuses on maintaining a healthy musculoskeletal and nervous systems, both of which will ensure overall wellness.
The research about chiropractic care continues to grow and according to the Annals of Internal Medicine, current studies reveal that spinal manipulative therapy performed by a trained chiropractor, along with exercise, can relieve neck pain more effectively than medication.
The Journal of Manipulative and Physiological Therapeutics reports that practicing an integrated approach to health care, which includes chiropractic care, there is a noticeable reduction in pharmaceutical costs, as well as fewer hospital admissions.
Consider seeing a chiropractor, like the Kosterman chiropractors, especially those dealing with frequent pain in the back, neck, or joints, as well as headaches and digestive issues. It is especially beneficial for those experiencing intense soreness following accidents, household chores, or prolonged periods of poor posture.
While the core of chiropractic is spinal manipulation, chiropractic care may also include other treatments. These include manual or manipulative therapies, postural and exercise instruction, and ergonomic training, which includes proper walking sitting, and standing techniques to help limit back strain. Chiropractors today often work in concurrence with primary care doctors, pain specialists, and surgeons to help provide pain treatment for their patients.
Chiropractic care is also seen as a great alternative to pain-relieving drugs, which the American College of Physicians recommends along with heat, massage, and acupuncture.
Other benefits of Chiropractic Care include:
Immune System
When the central nervous system is in great shape, other systems in the body are able to work more efficiently, including the immune system. The immune system is part of the body that attacks foreign and invading bodies. These include sickness, viruses, bacteria, and etc. Those that get regular chiropractic care report a healthier immune system, and therefore, a healthier overall body.
Higher Activity Level
It is well known that chiropractic care helps to reduce pain in the back and neck. Most people don't know that it can also help reduce pain in other areas of the body as well. So, those general aches and pains that come with age and use can be lessened or, in some cases, eliminated. When people have less pain, they are able to move more freely and enjoy an active everyday life. If you want to keep moving, even in your older age, start with chiropractic care and keeping your spine healthy.
Remember, the central nervous system is the body's information freeway. It controls all functions and healing in the body and connects all of the body's systems. It is the reason they are able to communicate with each other. And when you understand the importance of the nervous system, you can understand how you can improve your health naturally by starting with chiropractic care.
For those who have been looking for a way to maintain optimal health, contact Dr. Kosterman at Kosterman Chiropractic for more information! Chiropractic care is a proven method that may be the answer to improving a person's quality of life. Kosterman Chiropractors are more than happy to help patients get started on wellness goals of living a healthier and stress-free life.
In the Cary area? Give the office a call at 919-461-9779 and experience the benefits chiropractic adjustments can give a person.