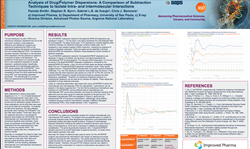 West Lafayette, Indiana (PRWEB) December 04, 2019
Improved Pharma's analytical methods provide a new and improved strategy to further enhance dissolution and stabilize amorphous materials. Additionally, their PDF Synchrotron methods provide a way to determine the structure of these new materials and enhance the ability to describe these compositions both in regulatory and patent applications. 
The latest developments were recently shared at the AAPS PharmSci 360 meeting in San Antonio, TX from Nov 3-6, 2019. The highly successful meeting allowed for several discussions surrounding the Improved Pharma problem solving strategy.  The conference booth was ideally located among several formulation companies and the formulation poster sessions, enabling a great forum for gathering scientists with similar interests. Improved Pharma was able to meet with a wide range of scientists who were extremely interested in the use of Synchrotron methods to solve problems.  Additionally, Improved Pharma, via its COO Pam Smith, presented a poster on Synchrotron analysis of lapatinib dispersions and a "rapid fire" presentation on Improved Pharma's capabilities including problem solving, formulation design, and analytical methods development.
About Improved Pharma
Improved Pharma is a research and information company dedicated to improving pharmaceutical methods, formulations, and processes. Dr. Stephen Byrn and Sarah Byrn founded the company in 2006 after the successful acquisition of their first company, SSCI. Dr. Pamela Smith joined the company in 2018 after an 18-year tenure with SSCI. Improved Pharma offers services such as analytical testing, synchrotron-based formulation design, and expert consulting aiding the development and defense of intellectual property matters.