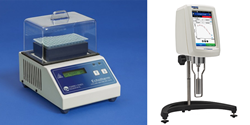 These baths will enable us to more closely control crystallization of drug substances, as an example, which could ultimately lead to more stable pharmaceutical products
WEST LAFAYETTE, Ind. (PRWEB) November 22, 2021
Improved Pharma is pleased to announce expanded capabilities with the addition of a new in-house Brookfield DVNext Rotational Cone/Plate Rheometer. Understanding the role that viscosity plays can be critical during formulation development of certain pharmaceutical drug products. "This analytical tool will enable us to help our clients with development of products including suspensions, creams and ointments, to name a few," states Dr. Stephen Byrn, CSO of Improved Pharma.
In addition, the new fully programmable chilling/heating dry baths from Torrey Pines provide precise control from -20 ֯C to 110 ֯C and will add to the expansive suite of in-house salt, polymorph and co-crystal screening capabilities. "These baths will enable us to more closely control crystallization of drug substances, as an example" explains Dr. Pamela Smith, COO of Improved Pharma, "which could ultimately lead to more stable pharmaceutical products".
The Brookfield Viscometer and Torrey Pines dry baths add to Improved Pharma's formulation capabilities. Viscosity determination is a valuable component of the current suite of analytical instruments and the Torrey Pines dry baths will be used during fit-for-purpose polymorph, salt, and co-crystal screens, formulation support and design, and litigation support.
About Improved Pharma
Improved Pharma is a research, consulting, and information company dedicated to improving pharmaceutical methods, formulations, and processes. Services include solid-state form studies, formulation design, synchrotron techniques, analytical testing, and expert consulting for the development and defense of intellectual property matters. The company was founded in 2006 by Stephen and Sarah Byrn, who also founded SSCI.
For more information about the analytical technique discussed in this press release or about Improved Pharma's services, please contact us at 1-765-463-9951 or info@improvedpharma.com.