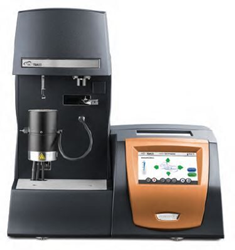 The acquisition of a new TG instrument rounds out our thermal suite. Understanding the thermal behavior of materials is key to their successful development into life-saving products
WEST LAFAYETTE, Ind. (PRWEB) January 12, 2022
Improved Pharma has expanded its thermal capabilities with the addition of a new TA Instruments TGA 55. TGA is used quite often to verify and understand thermal events observed by complementary techniques such as DSC. TGA can be used to determine bound vs adsorbed volatiles, and subsequently aid in the identification of potential solvates or hydrates, which may be problematic during drug development.
"The acquisition of a new TG instrument rounds out our thermal suite," states Dr. Pam Smith, COO of Improved Pharma. "Understanding the thermal behavior of materials is key to their successful development into life-saving products."
The TA Instruments TGA55 complements Improved Pharma's other thermal capabilities, which includes a TA Instruments DSC for heat flow measurements. Volatile determination is a valuable component of the current suite of analytical instruments used during fit-for-purpose polymorph, salt, and co-crystal screens, formulation support and design, and litigation support.
For more information, please contact us at info@improvedpharma.com or at 1-765-463-9951.
About Improved Pharma
Improved Pharma is a research, consulting, and information company dedicated to improving pharmaceutical methods, formulations, and processes. Services include solid-state form studies, formulation design, synchrotron techniques, analytical testing, and expert consulting for the development and defense of intellectual property matters. The company was founded in 2006 by Stephen and Sarah Byrn, who also founded SSCI.