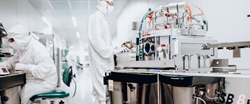 "This milestone signifies our willingness and ability to support our customers as their needs grow," said Craig Ensley, CEO of IMT. "We are gratified that dozens of billion dollar companies, including over a dozen S&P 500 companies, choose to partner with IMT for their MEMS devices."
SANTA BARBARA, Calif. (PRWEB) June 05, 2019
Innovative Micro Technology, Inc. (IMT) officially announced today that it is offering 8-inch (200mm) wafer fabrication capabilities, marshalling in a new era in the company's ability to serve the growing MEMS industry. 200mm capabilities improve the economics of MEMS production by yielding roughly twice the number of devices per wafer.
Bringing 8-inch capabilities to customers is another milestone in the ongoing capital improvements driven by the recent round of investment in the company last fall. IMT continues to upgrade its 130,000 ft2 manufacturing campus and 30,000 ft2 class 100 wafer fabrication clean room.
Since 2000, IMT has been a pioneer in the design and manufacture of Micro Electro-Mechanical Systems (MEMS), with over 500 programs completed to date. MEMS technology leverages the precision and scale of semiconductor wafer manufacturing to make nano-scale structures on silicon or glass that dramatically improve the performance of devices that perform physical functions. The company is the leading independent MEMS manufacturer in North America, partnering with innovative system-vendors and fabless device firms worldwide to create and sustain competitive advantage.
"This milestone signifies our willingness and ability to support our customers as their needs grow," said Craig Ensley, CEO of IMT. "We are gratified that dozens of billion dollar companies, including over a dozen S&P 500 companies, choose to partner with IMT for their MEMS devices."
About IMT
Innovative Micro Technology, Inc. (IMT) designs and manufactures Micro Electro-Mechanical Systems (MEMS) and wafer-level optics for sensing and communications applications. The company partners with innovative customers to solve challenging technical problems and deliver breakthrough MEMS-based solutions. IMT is the largest MEMS foundry in the US, serving customers from its 30,000 square foot class 100 wafer fabrication facility in Santa Barbara, supported by a dedicated staff of over 110 MEMS experts. IMT's extensive experience spans the full spectrum of MEMS, including optics, sensors, relays & RF switches, and microfluidic biochips. http://www.imtmems.com