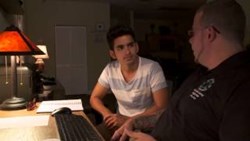 'We present an assortment of positive stories on our YouTube channel.' - an In View series producer
Boca Raton, FL (PRWEB) December 18, 2013
The production team of the In View Series, an informative and diverse cable program distributed on cable television and the internet, announced today the posting of several videos to the In View TV series' YouTube channel. The new videos on the channel showcase an addiction treatment center, a community bank and other subjects. The producers of the In View show, including senior associate producer Joel Walters, associate producer Brian Cahill, associate producer Diane Shandler and associate producer Courtney Lovejoy, inform the public and fans of the show about upcoming show airings and film shoots through social media, the show's official website and the TV program's network of blogs.
In View Larry King producer teams focus on particular themes when finding and developing content for the program. Producers like associate producer John Patrick, associate producer Karla Sullivan, associate producer Derrick Milhous, associate producer David Kent and associate producer Rachel Van Drake identify stories about the military, community banks, mental health centers, medical advances and many other subjects and groupings to present on In View hosted by Larry King (561-279-3550). Fans that check the official In View Facebook page can follow news about the program, such as where and when the TV program will next air.
The In View series hosted by Larry King (855-446-8439) has presented many upbeat stories to TV viewers and internet users across the U.S. in recent months. Last month, in an airing on Veterans Day, on the Discovery Channel, the TV program presented stories about companies across the country that actively recruit military veterans for employment. Other airings have featured stories about renewable energy, medical innovations and other subjects.